Digital innovation in the luxury industry is evolving at a rapid pace and what luxury brands do next is a hot topic. So, we're speaking with seasoned digital luxury industry experts and asking them the questions we all want to know about the future of digital for the luxury industry. You can view the full collection of interviews here.
In this article, we catch up with Pierre-Emmanuel Placette, who works with Cartier, one of the world's most renowned and influential luxury brands. Pierre-Emmanuel is an expert in International eCommerce and Retail Solutions for luxury brands.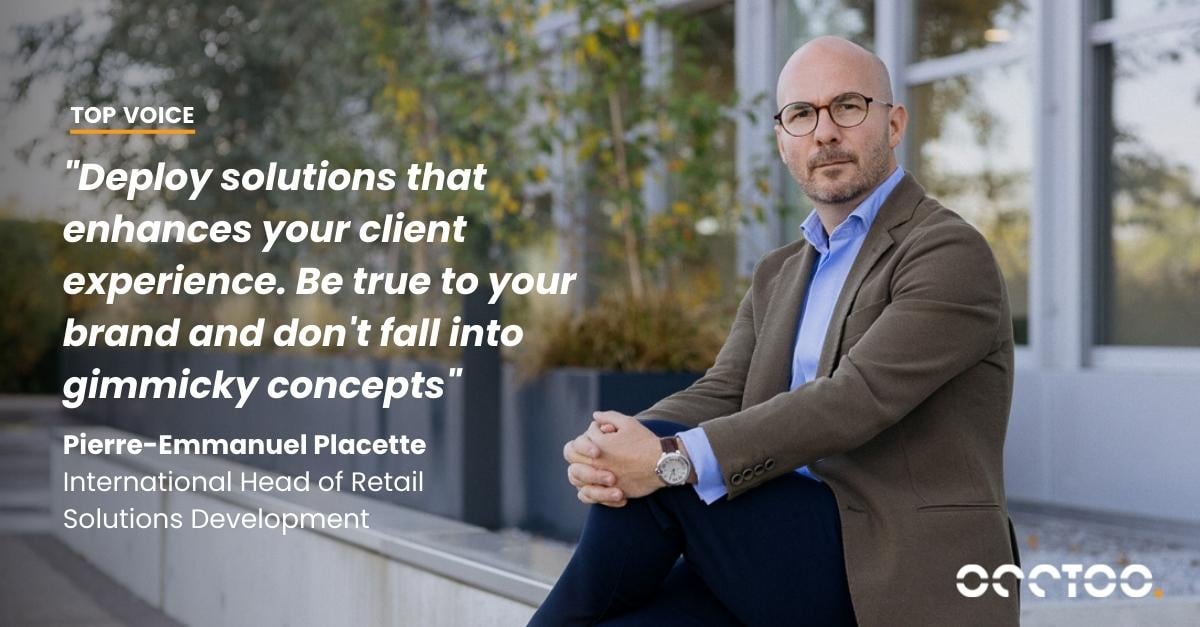 Can you tell me about your area of expertise and your responsibility within Cartier?
I have been working with Cartier for 16 years. I spent 10 years working for Commercial & Marketing, and 6 years ago I switched to Cartier HQ and began managing the ePartner business, which involved launching the eCommerce business on our partner websites, with partners such as Harrods, Selfridges, and NET-A-PORTER. After 3 years, I switched to the Commercial Innovation team.
One year ago I built a new team called The Retail Solutions Development team. Cartier has 280 stores and the goal of this team is to review how we can enhance experiences for both clients and staff in-store with digital solutions. We curate, prototype, and pilot in a few boutiques, and then roll out worldwide deployment and manage internal communication of those initiatives.
What type of clients do you serve and what do they expect from your experience?
The clients we serve expect outstanding service and experience, they're highly global and visit our stores in many different countries. They expect us to recognise them the same way everywhere, not just in their local store. The vast majority of our clients today are digitally savvy, and all of our clients want a seamless experience. It's no longer enough to simply tell them to visit another store to find their product, we need better ways to bring the product to them.
Omnichannel experience is a big focus for your team today. Can you tell us more about that?
To strengthen the experience for our global customers, and roll out partnership content, omnichannel has become an increasingly important focus for us. Our initial task was to find a way of sharing product and content data with our ePartners - this was a big challenge at the time because each set of data was held in different solutions.
Read why luxury brands turning to Experience Data to solve the Omnichannel challenge
Before on-boarding Occtoo it was a struggle to connect the experience across channels, markets, etc. Everything was extremely siloed and the data was residing in many different systems, making it very hard to execute our vision and innovate the experience at the pace needed.
Occtoo's Experience Data Platform has been instrumental in unlocking product, price, and content data, and making it available for our digital teams. We can now push up-to-date data to the relevant teams without them needing to visit each individual platform to download it. Now it's very easy for us to build new solutions, connect them to the database and launch a new experience. Projects that previously took us over one year to launch, now take us just a few months.
Do you have examples of digital experiences you have built that have been especially successful?
For the Cartier brand, product is key and we're not launching digital experiences for the purpose of excitement or gimmicks. Everything we launch serves a purpose to strengthen the overall customer experience and make it easier to connect with our products.
Our business is growing fast and our customer behavior is evolving as well, we and our creations need to be available to our clients anywhere at any time. We are focusing a lot on connecting our products to the digital world by using distance selling tools and we are working on presenting pieces we do not have in stock in new ultra realistic ways. People also need to be able to browse and educate themselves without necessarily having to talk to a sales associate. All of these developments are of course extremely "content demanding" this is why our content backbone needs to be strong, versatile and stable to make it possible.
In 2020 for example, after we launched our first Occtoo powered database for e-partners in 2018, the team also launched MyCatalogue for our Boutiques with the goal of unlocking sales capacity and create a mobile-first experience for employees to improve the experience of customers. The solution was an app designed specifically for sales associates, enabling them to serve customers anywhere in the store (or remotely!), with instant access to the assortment of Cartier's unique creations and stock information.
What advice would you offer to someone working within the luxury retail industry?
Try not to fall into the gimmicky world of digital experiences and just deploy solutions for the sake of launching something new. You have to deploy solutions that serve the client experience, not just something that attracts attention. Be true to your brand and focus on the purpose.
In summary
The overarching message from our experts is that for luxury brands to succeed in digital, they must find a way to create a unique experience, laced with the heritage and beauty that their brand is renowned for. Once the digital experience has been identified, then it becomes a matter of how you integrate the data for a true omnichannel journey.
Would you like to discover more about Occtoo?