Thomas Davis is in charge of global digital operations for one of the world's most recognized luxury brands, Cartier. Cartier's reputation over the last 170 years has been built on its brick-and-mortar business. Due to COVID, many customers have migrated their consumer habits to be digital-first. This has pushed digital experiences to be one of the top priorities since the start of the pandemic.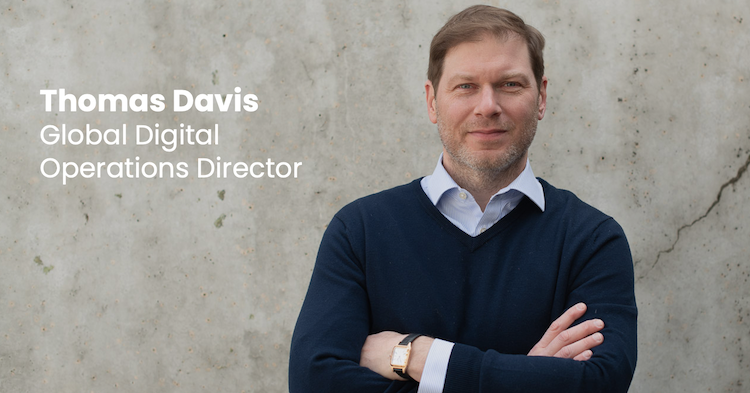 Thomas Davis has been responsible for setting up e-commerce and digital operations for global brands both in the US and Europe
Thomas grew up in the Greater New York City Area. He started his career in 1997 when he joined a group of entrepreneurs who were inspired by a new company called Amazon. They liked the idea of selling online and started to build online stores for local retailers. Since e-commerce was still in its infancy, companies built their online store "one excel table at a time".
One of the first online stores Thomas helped to build was for Back to Basics Toys. He remembers getting a disc in the mail containing a Quark version of the catalog as well as a physical catalog. Thomas had to manually sit and transform each product into a digital format by typing the data into endless excel sheets. A lot has happened since the beginning of the e-commerce era but each of these "manual" solutions built many of the beliefs and strategies that Thomas still uses today. Thomas has been responsible for setting up and running global e-commerce operations at brands such as Tommy Hilfiger, Kenneth Cole Productions and PUMA. Since 2016 he has been dedicated to building out the digital and e-commerce operations of Cartier.
Prefer audio? Listen to Thomas being interviewed by the MACH Alliance as he describes his Headless strategy in-depth and why he thinks easy access to data is the most important thing for digital teams.
Customer experience innovation key to stay relevant
Cartier is a heritage brand with high end products that customers keep and cherish for generations. Some of the products are true classics which have been part of the assortment since 1895. At the heart of Cartier is storytelling and experience.
"Every time we build a digital experience it needs to be unique and one of a kind, our customers come to our site to dream and they demand uniqueness. We need to have the digital capabilities to deliver on those expectations" Thomas says.
Speed and agility, a focus when building out Cartier's digital capabilities
"We are looking for speed and agility and I personally work under the notion that the technology landscape changes radically every 3-4 years. I do not make technology commitments that will last 5-10 years. The world moves too fast and if you are a locked into enterprise-monolithic contracts you could lose out on agility and opportunity. The headless approach is interesting to us because you can move faster and change technology more easily as new better options emerge".
With Occtoo, Thomas has unified all Cartier's experience data. Before, the data was scattered across different internal systems on different markets (customer data, product data, images and various content etc). This makes all of the data easy to access in order to quickly build and launch new digital experiences for their customers on any screen or channel. With the Occtoo real-time APIs the data is available in milliseconds in any frontend, creating zero friction in the customer experience.
"We are doing a lot of creative innovation that requires data. If we had done it the traditional way our time to market would be at least 4x slower. With the power of Occtoo we are able to access the data and distribute headless experiences into a variety of applications, web sites and screen experiences. Not only are we now faster to market but our costs to build these experiences has lowered dramatically"
With this approach, Thomas will unlock the creative opportunities through his organization. The creative teams no longer have any technical limitations which previously "hand cuffed" them into certain design principals. With Occtoo powering assets their teams can now focus on designing without restraint to deliver the most compelling digital experience they can imagine.
Increased focus on digital operations during the pandemic
As customer adoption of e-commerce has accelerated during the pandemic so have customer expectations, something Cartier has noticed across their community.
"The addition of Occtoo in our tech stack enables us to move at a similar speed as our customers' expectations. For example, as the market evolves Occtoo allows our business to evolve in parallel. This is a significant change since we no longer have to wait for our traditional tech stacks to catch up. Now we can continuously evolve along with our customers and the market demands"
So, a lot has happened since Thomas built his first online store via excel. Instead of spending a lot of time doing manual work integrating data he now relies on unified data and real-time APIs to make the data accessible on a global scale. Today Thomas and his team can focus more of their time being creative, launching new and unique digital experiences and deliver best in class e-commerce experiences, rather than worrying about how or what the team can or cannot do within the limits of previous technology solutions.
About Occtoo
Occtoo is an Experience Data Platform that fast forwards how digital officers, marketers and developers create relevant customer experiences everywhere. Unify all your experience data (transactional data, product data, customer data, content etc) with ease and access it from one single source. Make unique combinations of customer, context and content data and create a tailored API with a click to make the headless data available in real-time in any frontend, channel or device.
Sounds interesting? Read this article from our CTO Jimmy Ekbäck about how we have reimagined the customer experience tech stack.
Want the story first hand? Drop a line to our CEO Niclas Mollin at niclas.mollin@occtoo.com and he'll tell you everything you want to know.