You're looking for new ways to unify your data, and you need to invest in tech to reduce time spent on integration. A bonus would be to enhance your unified customer experience. The question is - should you strengthen or replace your customer data platform? What else is out there?
You've heard about Experience Data and an Experience Data Platform, but you're not exactly sure what the difference is between the two.
In this brief article, we explain the difference between your old friend, the CDP, and the newest, more advanced kid on the block that utilizes your CDP, the Experience Data Platform.
What is a Customer Data Platform (CDP)?
A customer data platform (CDP) is a system that stores customer data. It has a unified database that can be accessed by other marketing technology (Martech) systems. 
A CDP integrates demographic, transactional, structured, and unstructured data from multiple sources into a single repository allowing digital teams to build a unified profile around an individual customer.
These types of systems are designed to store data and they enable you to segment customer groups by persona types for targeted campaigns (e.g. SMS and email). What they don't do is activate the data or make it available in a frontend experience. This becomes a big challenge when you want to use your data to create seamless digital experiences for customers; for every new addition to the tech stack, you need to add more complicated integrations, which slow your team down even more and prevents them from being able to adapt fast enough to changing behaviours. This, in turn, restrains their innovation and capability to meet customer demands. 
An Experience Data Platform (XDP)
In a digital world, delivering your customers an outstanding, unified and contextually relevant experience relies on unified experience data.
An XDP unifies data and assets from CRM, PIM, DAM, ERP and other backend systems with behavioural and contextual data from digital destinations. All this data is instantly available for digital teams to create real-time APIs, without having any coding skills: meaning they can build new digital experiences for any channel at lightning speed and with lower cost. This means your organisation can build digital experiences faster.
Let's say you want to create a new mobile application to support your in-store staff. In the ideation phase, you identify that you need product data, customer data, transactional data, and geo-location data to build this channel-specific experience. You need to unify these enterprise data assets so that you can start to combine them with behavioural and contextual data that you collect in your digital destinations, and build new digital experiences with them. This is what an Experience Platform does, meaning a CDP is just one data source fuelling an Experience Data Platform with data. You can then combine this customer data with content assets.
This XDP makes these data assets instantly available for digital teams without any costly and time-consuming integration projects. They can then pick and choose the assets they need for building a specific digital experience and create a purpose-built real-time APIs consisting only of these exact assets. This enables a frontend developer to quickly put the experience together in the frontend of choice. You can now build new digital experiences at lightning speed at much lower cost.
Turn your enterprise data into experience data to level up your digital experience
You have to turn your enterprise data into experience data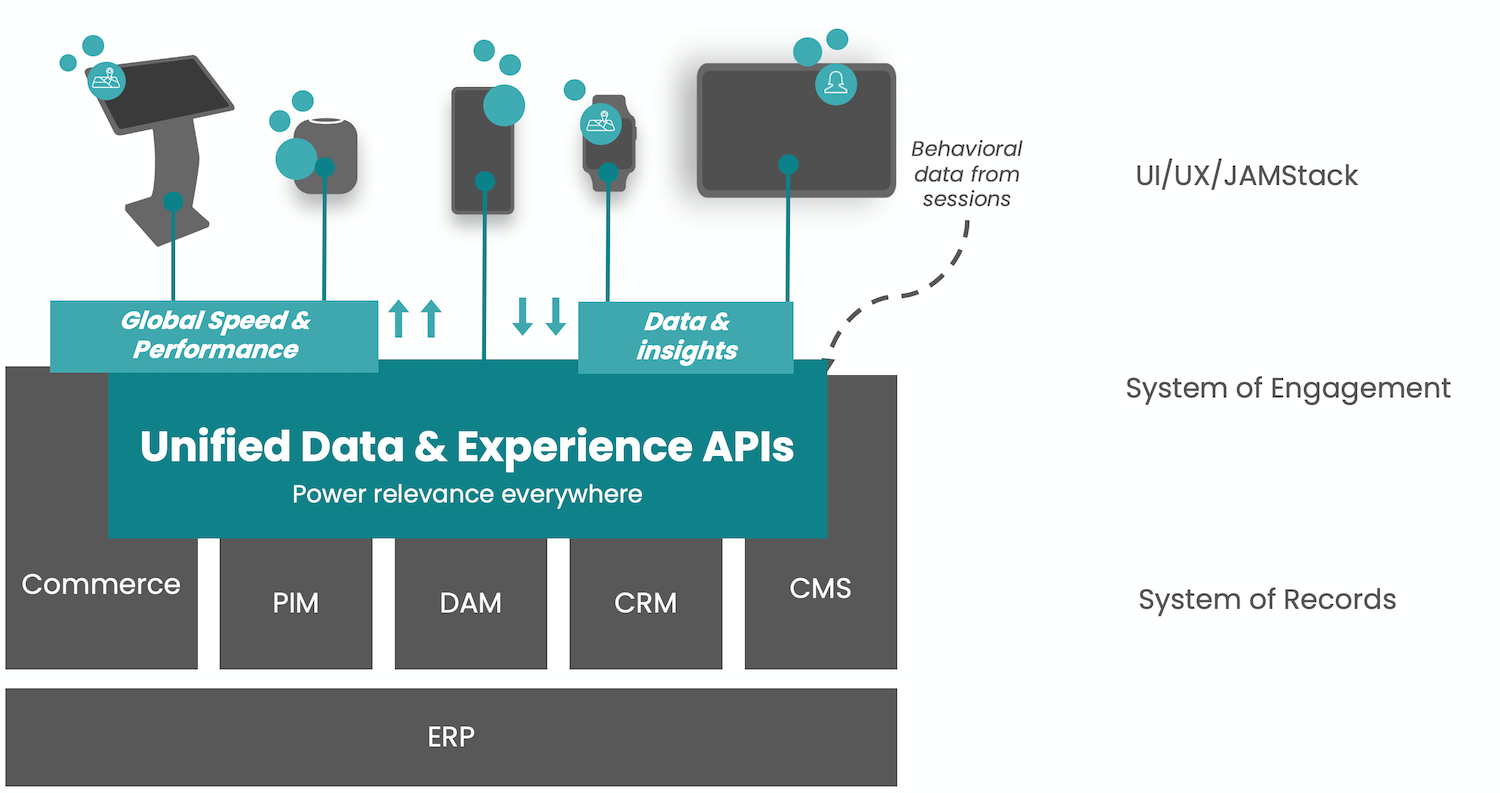 With the addition of an Experience Data Platform, your organization can build digital experiences faster than ever before and strengthen the unified customer experience across all of your digital touch-points while collecting and re-using data across channels.
Customer Data Platform Vs Experience Data Platform
To win market share and retain customers in today's highly competitive, digital-first landscape, you must deliver a strong unified digital experience: with contextual relevance and customer experience at the forefront of your success story.
Let's compare the CDP Vs the XPD
| | | |
| --- | --- | --- |
| | Customer data platform | Experience data platform |
| Unifies customer data | X | X |
| Collects data from digital interactions | X | X |
| Combines customer data with content/product assets to strengthen relevance | | X |
| Re-uses data across multiple channels | X | X |
| Reduces time spent on integration | X | X |
| Makes data accessible in real-time to a frontend | | X |
| Purpose built APIs for every digital initiative | | X |
| Seamless geo-scaling of data | X | X |
| Enables the creation of automated and highly relevant product experience, based on unique personas | | X |
| No code needed for API creation | | X |
| Fuels static product data to 3rd party platform (marketplaces etc) | | X |
| Fuels widgets at 3rd party sites with product content (partner pages etc) | | X |
| Delivers dynamic data to multiple destinations | | X |
If you want to stop sifting through multiple data silos and you want to bring together a unified experience, combining customer, content and context data, then an Experience Data Platform is the solution you need.
Check out what customers have built with Occtoo
With the
Occtoo
Experience Data Platform
,
companies such as
Cartier, Fjällräven, and Nordic Nest have been able to deploy 4x more initiatives from their CX roadmap, re-use data across their digital experiences, and spend less time and money on integration and more on customer innovation.