Your data is your strongest and most valuable asset for empowering your teams to react and launch new customer experiences, so it's crucial to ensure it is readily available, up-to-date, and easy to access at lightning speed. Instant access to real-time data will make your business more resilient and enable you to change paths and build newly optimized and personal digital experiences.

In this blog, I look at the current state of CX data and how this could be holding your business back, and I'll explain what an Experience Data Platform (XDP) is and how it unlocks real-time data and empowers you to geo-scale your digital experiences friction-free.
The current state of CX data and why it could be holding your digital teams back
Your organization likely handles tons of data across a mixture of systems: your product managers working in the PIM/PLM area, your distributors updating shipping information in the WMS or OMS, and your marketing and sales team managing the CRM. These individual solutions are systems of record; they hold and process the single source of truth for most of the data. Data residing in these systems is residing in an Enterprise state and is often characterized by a few different parameters:
There are

set

processes in place for how the data is updated and who can work with the data.

The data

may

need to be verified by multiple separate roles following an intricate approval schema.

Data records need to be stored for a long time, up to several years or even decades.

Storing options can be limited to on-premises physical servers due to software restrictions or data regulations within the company.
Storing your CX data in an Enterprise state slows the data down, makes it harder to use outside of the core application, and means that it is not scaled for servicing external requests in a frontend when building customer-facing applications. Simply put, it is killing your digital customer experience.

Using Enterprise state data outside of its core habitat normally requires setting up a lot of various services in a cloud or on-site environment and then building costly and time-consuming integrations from all the data sources needed into your new platform.

Joining data together from different systems often results in problems because the data has not been modelled in the same way across each of the solutions. You first must find the least common denominator between the systems and then only integrate that specific data, omitting and discarding a lot of vital data from some systems.
Building truly unified customer experiences has never been this easy!
Another major issue with Enterprise Data is the fact that it is seldom scalable. Sure, your PIM system or ERP might be able to service a few of your employees in your different offices but when it comes to providing the data in real-time to tens of thousands of simultaneous users around the globe, these systems will not cope with that kind of load. In a case like that, you would need to rely on third-party tools such as a CDN to deliver the data faster in every part of the world. Now, moving the data into your CDN requires yet another integration project.
Many organizations struggle with these problems, and while a few of them managed to gather their CX data in a data lake or similar, only some of them were able to find good solutions for making the data available outside of the company, normally by setting up a GraphQL endpoint for developers to explore and get lost in. I wrote more about this in this article; How to stop overloading your developers with data when building digital experiences.
How do you unlock real-time CX data and move it to an Experience state?
The world's most digitally progressive companies are tailoring specific digital experiences to keep their customers' attention – to do this, digital teams must be able to access and unify the CX data they need for each frontend experience, without waiting on lengthy integration projects. The solution to this is to move your data into an Experience state.
Experience data is a combination of Enterprise data from your system of records (PIM, CRM, ERP, DAM, etc) and contextual and behavioral data from your external digital destinations. 
An Experience Data Platform (XDP) is a unified data layer that sits on top of these systems of records. This platform unifies your CX data assets without the need for costly and time-consuming integration projects and makes the data available in real-time on a global scale, using real-time APIs, while at the same time collecting new data from your digital destinations.
View Occtoo documentation here.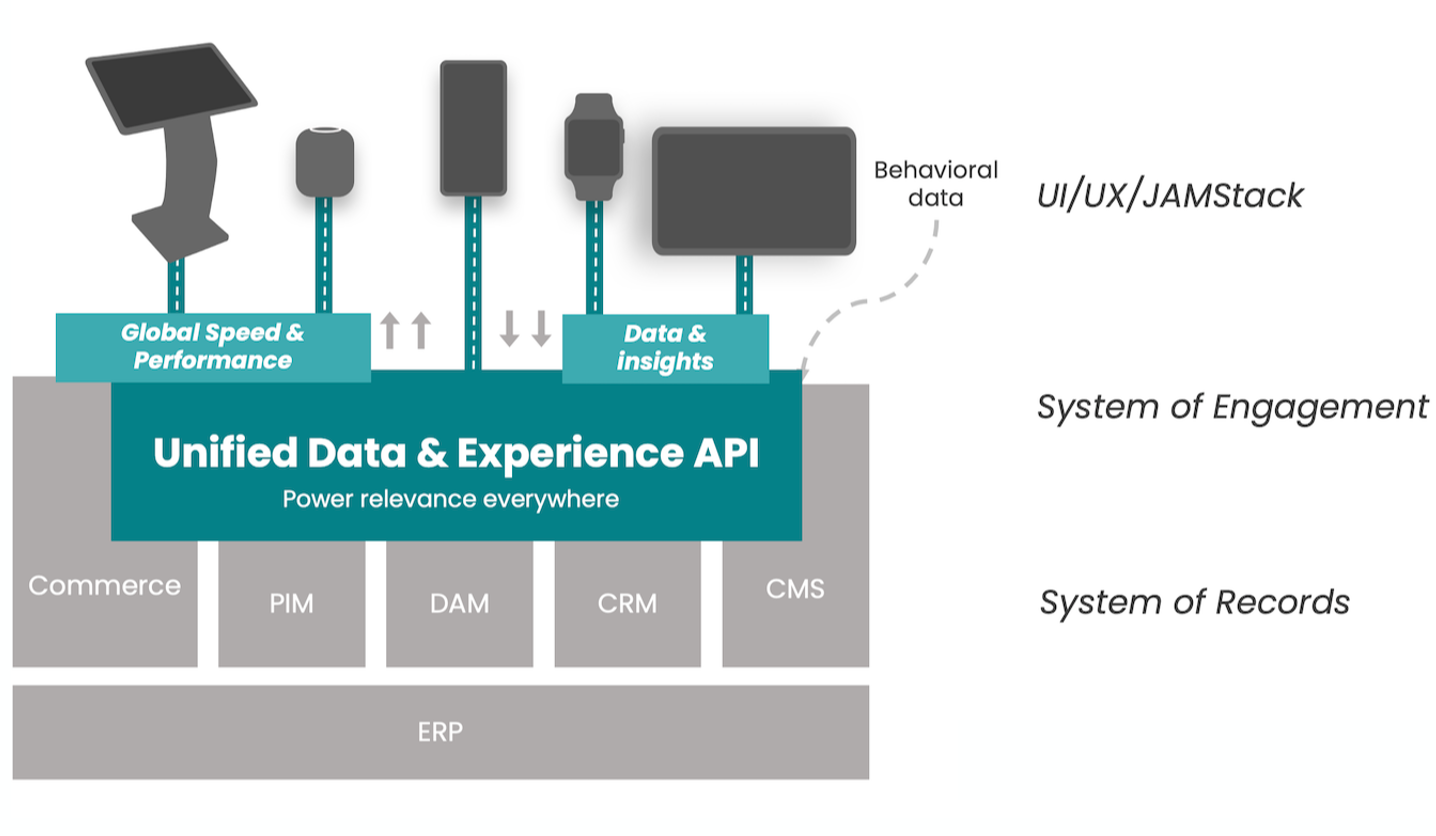 When you move your data to an Experience state, the data is fast, and easy to unify, segment, filter, and distribute using simple tools that your digital team has access to at their fingertips. You can create application-specific data endpoints which only contain the data needed, in a matter of minutes and not days or weeks, WITHOUT lengthy integrations!

When you make the data more accessible, your digital teams will become more creative and dare to try out new things: whether it's a new custom-built front-end experience, or if the challenge is to provide a combination of unified data to a third-party application that you want to test – unlocking your data and moving it to an Experience state makes these tasks easier than ever!
A real example and case study
Our customers are a testament to the innovation power created by the Occtoo Experience Data Platform. One great example of this is Cartier's new wedding ring app.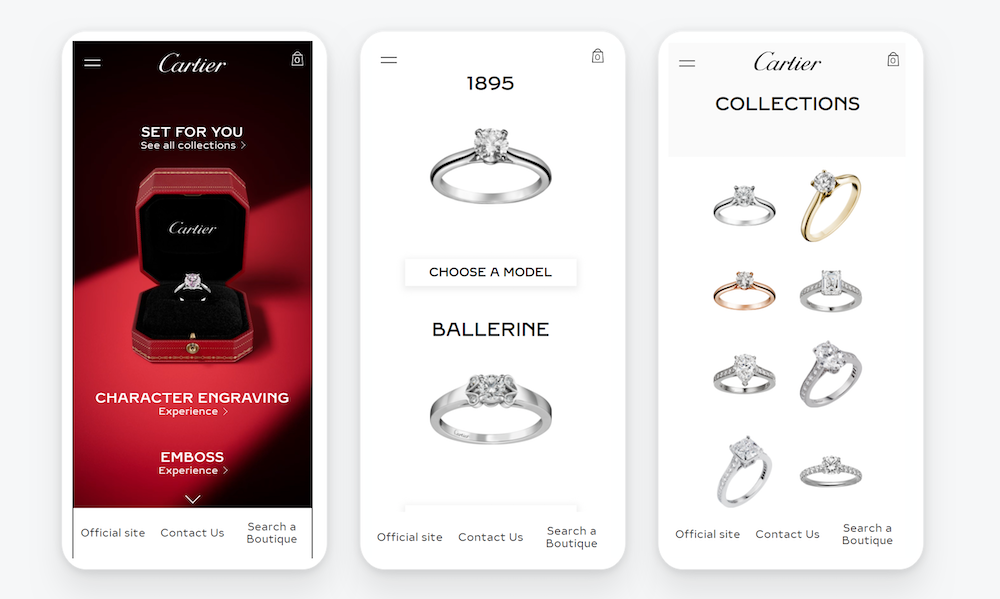 Cartier wanted to create an application to guide future wedding couples through their search for the perfect wedding ring. Now, this may seem like a simple thing to do, however, the application required access to data from Cartier's diamond ERP. Enabling global access to their diamond ERP was not a trivial task.
Typically, an ERP system cannot handle a large number of users simultaneously accessing the data it holds, it is just not built for handling that load. Further on, delivering this data globally in real time adds even more complications. Combine this with product information from the PIM, images from DAM, and stock availability and pricing coming from the ERP and you have a pretty complex solution in front of you. All individual systems with their own format of data and their own limitations in scaling the data for the task at hand.
A solution like this would typically take somewhere around 6 months to implement and would require setting up a global infrastructure for storing and handling the data, making it available globally. This would typically be a risky, time-consuming, and complex project.

To solve this problem, Cartier used the Occtoo Experience Data Platform. An Experience Data Platform sits like a layer on top of your individual systems and combines and delivers only the selected/chosen data you need to create and deliver a unique digital experience. Acting as a backend to frontend proxy for the backend systems, meaning you can cut integration times and speed up global access to accurate information.

After a record of just five weeks, the first MVP was ready, and after 8 weeks it was launched to the public. Talk about the power of innovation!
At Occtoo, we want to democratize access to CX data within organizations by offering a tool that allows digital teams to deliver customized real-time Experience data to any front-end. Enabling developers to have easier access to data to build fantastic experiences and scale globally friction-free!
Book a demo with our team today to discover how Occtoo can make help you scale globally and turn your slow enterprise data into lightweight and real-time experience data