We're interviewing some of the most influential people in the digital retail space to bring you some of the hottest insights and learn what's next for the future of customer experience in retail.
You can view the full collection of interviews here.
We spoke with Jakob Seemann Weitemeyer from Outfit International this week. Outfit International is Europe's leading quality hunting gear store retailer and was founded in 1976. The company has around 80 employees, with 65 based in Denmark and the rest working in sales offices in the UK, Germany, and other EU countries. The company specializes in producing high-quality hunting clothes, footwear, and gear under its two main brands - Seeland and Härkila. Outfit International primarily operates in the B2B market and exports its products to the rest of Europe, with 5% of its sales coming from B2C.
Jakob is an IT manager at Outfit International and has a background in developing and integrating data-driven solutions in marketing and graphical environments which naturally lead to PIM, DAM and ERP integration and solutions in various markets.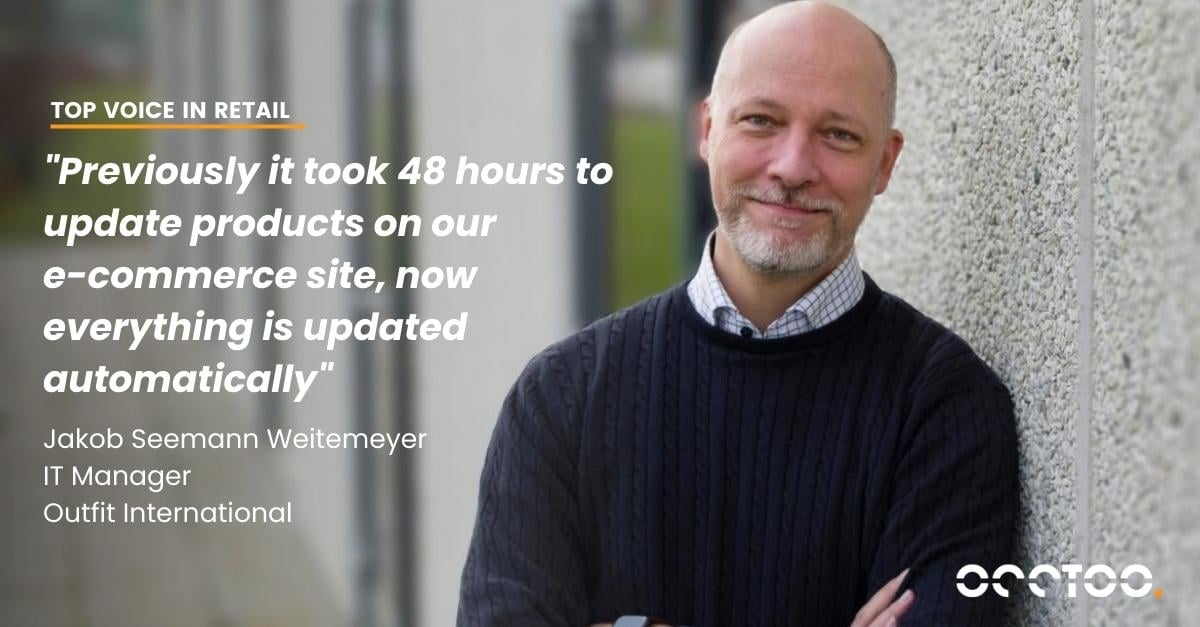 Hi Jakob, can you please tell us a bit about yourself and your area of responsibility at Outfit International?
I am the IT manager at Outfit International and am responsible for all business systems and applications. Ensuring that master data is properly distributed to various channels, and developing and implementing an IT strategy that aligns with the business strategy to support growth of the organization. I'm also responsible for selecting and implementing best of breed applications and systems that follow best practices to create a solid foundation for growth along with managing cyber security measures for both employees and partners. Previously, I also worked for Apple and a few other IT companies which has led me to develop strong knowledge in IT and its trends and technologies.
What made you switch to Composable architecture, and the benefits that came with this switch?
Our business has grown strength by strength over the last few years and especially now as our B2C business is growing at a fast pace, it is essential to address the business needs. The technology setup is directly proportional to how fast you can launch customer focused initiatives, it is like the engine that runs the creative aspects of your business, so we had to look at a way that would enable us to faster adapt to our customer's needs.
The best benefit of a composable architecture is that it allows you to choose the best software solutions for your specific needs, instead of relying on a single system that may not meet all your requirements.
Composable means you can pick the best-of-breed solutions for each part of your business, allowing you to optimize your processes and achieve the best possible outcomes. It also enables you to easily replace systems when they become outdated or no longer serve your needs, without having to redo your entire IT infrastructure which is a highly beneficial advantage point for IT teams. Take for instance, our two new e-commerce sites for Seeland and Härkila that has been built using best of breed technology, we are using Occtoo's Experience Data Platform to unify data from ERP and PIM and feeding our e-commerce platform centra with this data in real-time, thus reducing data complexity and avoiding time spent on lengthy integrations.
By using Occtoo, we steer all business logic from their platform and it dictates where data should go and in what format, leading to better control over data. This leads to creating better experiences for our customers.
Occtoo's partner agencies, Immeo and NoA Ignite have respectively on-boarded the PIM and ERP data and designed the front-end to bring the entire digital experience to life. That to me is the biggest advantage that you can pick and use the best technologies available for your needs.
Learn more: Read how Outfit International unified the data in Occtoo to launch two new E-commerce sites
Can you elaborate on the key issues or problems you were facing before switching to a composable tech stack?
We had some challenges with data management, particularly with regards to maintaining product data on various endpoints in different languages. The data flow was not as efficient as desired for the business growth, with changes in back-end systems sometimes taking up to 48 hours to be reflected on the endpoints. With a brand like ours that is targeted towards fast-paced outdoorsy audience, we cannot work at such a slow pace to reflect changes in our campaigns/communications. We knew it was time to make changes on both ends, and not be restricted to the limited capabilities of the endpoint system.
Can you share some of the challenges and success factors you faced during this IT system transition to composable?
Well, when it comes to challenges, we had a very steep learning curve in designing and implementing the new system landscape and architecture. We had to make some significant changes to our core applications like PDM, PIM, DAM, and ERP to accommodate the new data flow. We also faced some resistance and lack of understanding from some old partners in adopting the new composable architecture, so that lengthened the time duration for the project as well. Luckily, we found exceptionally good partners in NoA Ignite and Immeo. The team at Occtoo has also been very generous in sharing their knowledge and supporting us.
If you were to give

an

advice to someone going Composable, what would it be?
Firstly, it is of high significance to carefully choose the partners and systems in your stack based on their ability to support a composable architecture and adhere to your data governance and security policies. You may also need to adjust your business logic and core applications to accommodate a more fluid data flow in such a case. Data integration can be extremely tedious especially when it is coming from various sources in the back end, so having a technology tool like Occtoo's Experience Data Platform can save your precious days or even months. Data being routed precisely when you need it changes the entire ball game and hence you need to take that into consideration while going composable.
Other than that, you should establish clear communication and coordination with all partners and organizations involved in the data flow and cyber security to ensure that backups, security measures, and governance policies are well understood and properly implemented. And finally, regular testing and monitoring of the data flow and security measures should be conducted to ensure the system remains stable and secure.
You may also like:
5 benefits of making an Experience Data Platform your first Composable investment
Christian Reppien Trovatten, E-commerce Operations Team Lead at Outfit International talks digital success
Webinar: 3 ways to transition into a Composable state
Would you like to discover more about Occtoo?