Nina Ludwig Lindelöf has been working as a Wholesale Director for athleisure fashion brands over the past 20 years. When the opportunity came to join the newcomer ICANIWILL in 2019 she could not refuse a new joyride. Since that time, ICANIWILL has been recognized as the fastest growing fashion brand in Sweden and they have no plans of slowing down.
From a sticky note to the global scene
The company's journey started with a sticky note on the founder Gustaf Ollas mirror with the quote "ICANIWILL". A simple mantra, a challenge for yourself and the rest of the world. I can do it and I will do it. Gustaf could not find an activewear brand which focused on the growing fitness and cross fit world, he decided to learn textile from scratch and in 2014 the first pair of women's tights were ready to be sold. The company has grown a lot since then, but still runs with the same passion as when it was founded. The next phase is to scale their assortment and partner network to reach new markets and customers; this is also the reason why they brought Nina in.
The brand-partner relationship has been under massive transformation
Nina brings a lot of experience from the Wholesale field and has seen a big change in the relationship between brands and partners. In the past it was more transactional, while today it is a collaboration with the goal to add value to both parties via a perfect mix of commercial assortment, business model and marketing activities. The retailer's business model is likely to change over time, so it is important for brands to be flexible.
When it comes to a geographical brand strategy, not that many years ago, the right thing for a brand would have been to find an agent and/or distributors that could do the job for you. The downside of a distribution strategy like that was the risk of getting too distant to the market, as well as the end consumer getting a twisted message of your brand. Today brands need more control to stay competitive, and with the possibilities created through digital solutions, Nina thinks there are no excuses for a brand not to work directly with the retailers. "It is really important to ensure that your own brand experience is conveyed correctly within the retailers context", she emphasizes.
A smooth experience important for all types of customers
Partners are just as important a customer group for ICANIWILL as the end consumers. This means everything from having a high-quality assortment in both production and design, top of the line staff, information easily accessible and tech solutions in place to speed up processes.
"From my first day at ICANIWILL, I have been impressed by the focus we have on our data. We collect, learn, and then take fact-based decisions. We partner up with other companies that are experts in digital solutions and can support our growth. As a young company we have not got any history that holds us back, we are born into the digital world"

Nina Ludwig Lindelöf will make sure that hypergrowth brand ICANIWILL will take the next steps with their partner sales. Photo by Fredrik Stål.
Streamlining content distribution to the partner network is crucial
When Nina joined, the team were sharing content with partners through Google Drive, creating a lot of frustration among both the internal team and partners. To increase efficiency and free up time related to content distribution, Nina has decided to onboard PartnerZone from Occtoo. As they onboard more partners and scale their assortment, a wide range of partners will join. This will increase the need to make sure they offer the right content to the right partner.
---
You might also like: Christian Bader will fast forward Fenix Outdoors customer experience innovation
---

"The portal is very user friendly and it helps our partners to speed up the process of finding and uploading new relevant content to their platforms. As the upload of our content to PartnerZone is automated, it will allow our creative team to find more time to create even better content which means we will build an even stronger brand"
The team will also get insights on which content is used and which is not, and the partners are also able to give feedback. This will help the team to create better and more relevant content and Nina can spend more time pursuing business opportunities. They will also be able to start up new sales channels and marketplaces that were previously very time-consuming projects, but with Occtoo they will be easier to scale fast.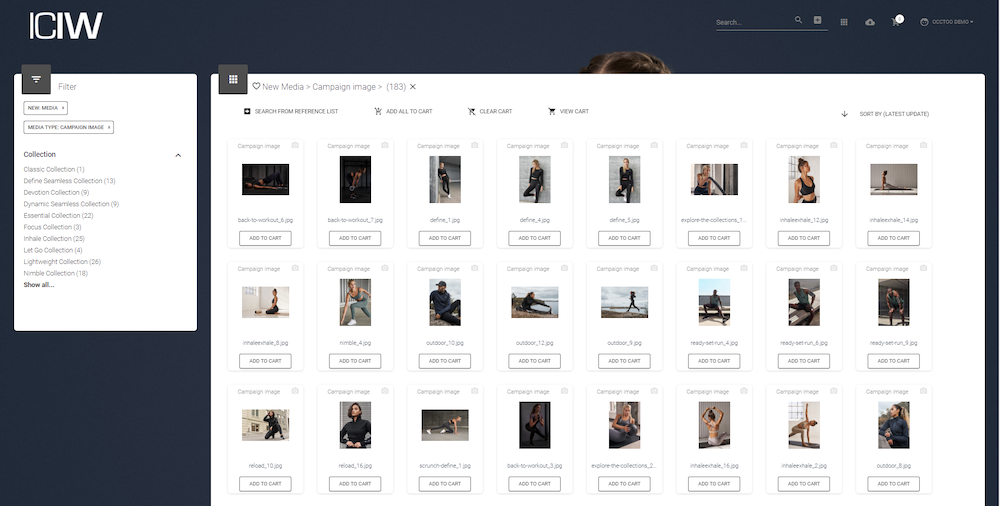 In Partner Zone it is easy to browse, find and download all marketing and product material. Based on the profile of the partner they also get access to the right part of the assortment to provide them with a more relevant experience.
Nina's view on the future of brand-partner relationships
The collaboration between brands and partners will be more transparent with increased insights and data sharing. Brands and partners will have a higher focus on the importance of sharing the same values and knowledge about their niche and product, and agree on how to add value for the end consumer rather than discussing the best margins and business conditions. Brands will take a full circle responsibility, from product idea to recycling.
Her advice for other Wholesale Directors to be successful is short and sweet; "Stay curious!"
About Occtoo
Occtoo provides an experience toolbox for brands so they can easily share and distribute their product, campaign and marketing material to retailers, partners and internal departments with ease. Content portal, feeds and mini-sites are some of the tools in the toolbox. With Occtoo customers see significant increased efficiency, reduced time-to-market and ensure a better brand experience at partners representing their brand towards customers.
Read more about Occtoo for brands.