Since we founded Occtoo in 2019, I've had conversations with many retailers and brands about how to improve their digital customer experience. Everyone agrees that they need to ship more digital initiatives faster to stay relevant as customer demands change. The problem comes down to the execution of those digital projects: too much time and money is spent on integration rather than activities that improve the end customer experience. This slows everyone down, but it doesn't have to!
Let me give you a real-world example! This is from a dialogue I had a couple of weeks ago.

A brand want to build a new mobile app where customers can browse and buy their assortment, create their own profile, follow the status of their order and manage their relationship with the company. In order for the company to create this app, they need access to several different data types. All this data lives in a variety of systems. Customer data from the CRM, product data from the PIM-system, transactional data from the ERP, content assets from the DAM system, checkout and campaign features from the e-commerce platform, order history from the order management system.

To build this new cool mobile experience, they need to combine all of this data and start to create point-to-point integrations between all of these systems. Customer data gets integrated into the e-commerce platforms (takes X hours), product data gets integrated into the order management system (takes Y hours), transactional data gets integrated into the CRM system (takes Z hours). And so the list goes on.

At the end of the project you get a budget that looks something similar to this:

UX & Design: 5%


Front-end development: 10%
Software: 10%
Integration: 75%


And the next time you start a new initiative you need to do this all over again! 😅 ...in a never ending and frustrating loop.

Integrate = time lost, money spent.
Integrate = time lost, money spent.
Integrate = time lost, money spent, customer lost.

I've heard real business horror stories where as much as 90% of the budget for a project was dedicated to integration.

I don't know what you are thinking now, but I am thinking that it is a whole lot of time and money spent just shipping data around, and very little time spent on things that actually improve the customer experience (meaning drives revenue).

Even when I talk to agencies who are actually profiting from building integrations, they agree this is a problem, because the developers they need for execution are a scarce resource. Many agency leaders are tired of a constant lack of resources and how it is negatively impacting their client relations. One person said "I lack people, not assignments".

This problem is not getting smaller since the need for developers is growing at a much higher rate than the growth of the developer community. They also understand that the task of just moving data around is not what is driving value for their customers. In the end, lack of people with the right skills is one additional factor that slows a project down and valuable time is lost.

It is time to change this! Because it is possible to free up time from integrating data and put those precious hours into activities that are driving new revenue. It is money that can be spent on 1, 2 or maybe even 3 other digital initiatives that differentiate your customer experience and brand from the competition.
Presenting Occtoo – The Experience Data Platform
With Occtoo we are solving this challenge. We are tired of seeing the frustration of digital officers and marketers who aren't able to execute their vision because they're too reliant on non-existing tech resources to access the data they need. On the other hand we have the Technology leaders with a flooded backlog and the business overwhelming them with new demands. It's not a sustainable situation for the business nor the people.
With Occtoo you can easily unify all your content and experience data without the need for time-consuming and expensive integrations. We will have you up and running in a few days. When you have all your data from your ERP, PIM, CRM or any other system in one place (without the need for many point-to-point integrations) you can just pick and choose the right data assets you need to execute a specific project.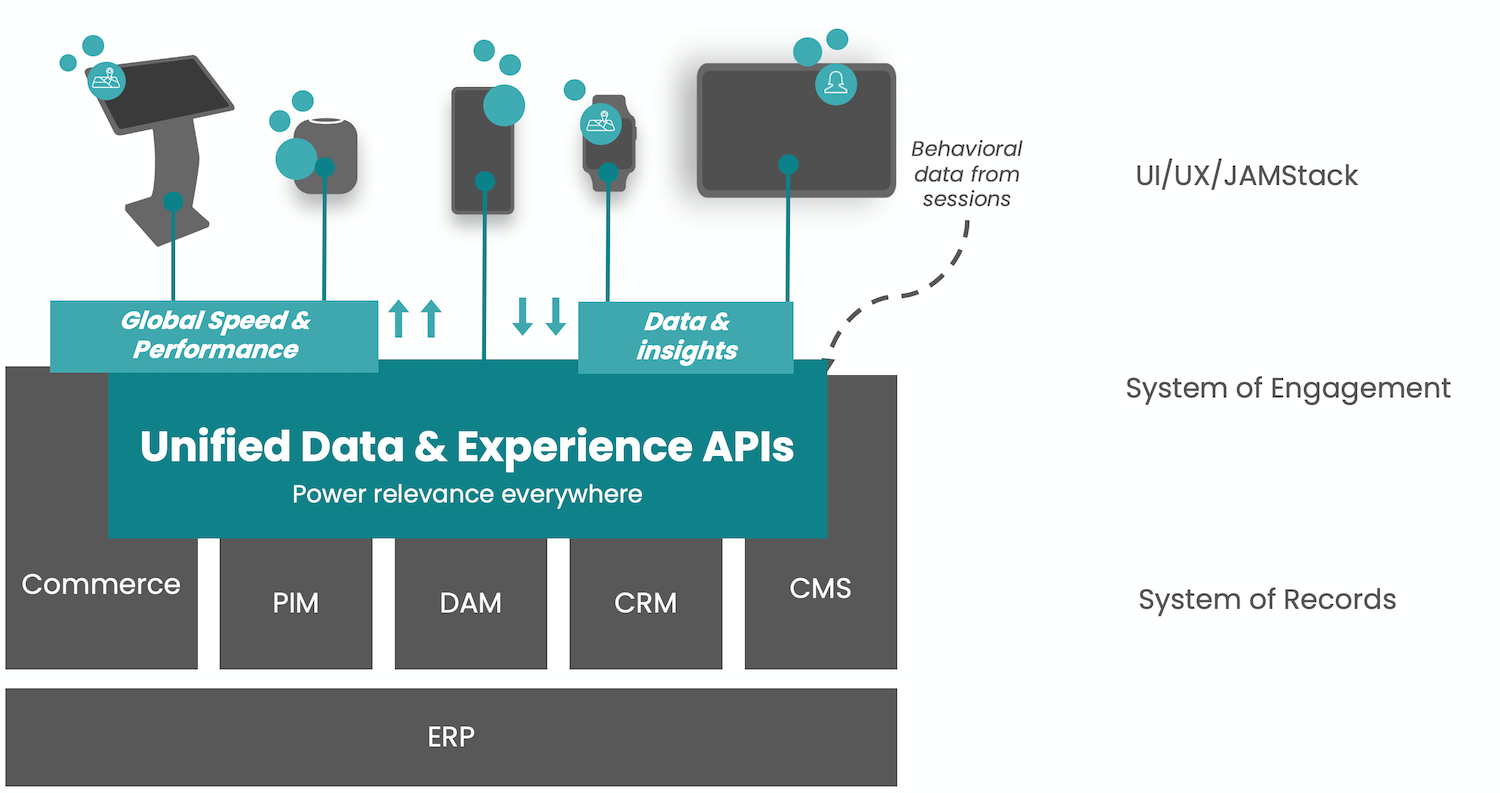 With Occtoo in your tech stack you will get the missing piece that enables you to unify, connect and collect experience data and have it instantly accessible to go from idea to deployment in no time when building your next digital experience.
After choosing your assets you simple create a real-time API with a click (yes, with a click!) to make this data set instantly available for a frontend developer to put together in the frontend of your choice.
This Experience API fuels the data into the frontend in milliseconds, making it a seamless experience for the user every time they use your app, browse your website or scroll your in-store screen. The next time you want to build a new experience you simply choose your assets and create a new API – this exercise takes a few minutes and can be done without any coding skills. Compare this to waiting several months for an integration and getting access to backend developer resources. You can also share and re-use data across initiatives and channels.
What Occtoo customers say
Our customers say they can ship more initiatives and faster. Christian Bader is the CTO at Fenix Outdoor, he says that "Getting our product data out to new destinations was previously a monthly exercise. After implementing Occtoo it is a daily exercise". Thomas Davis is responsible for global digital operations at luxury brand Cartier, he says they are 4x faster to market after implementing Occtoo and building their experiences with our headless data approach.
---
Use Occtoo to unlock innovation and creativity whilst speeding up your idea-to-deployment process. Flip how you spend your time and money when building your next digital experience: less work on integration and more work on activities that improve the customer experience, resulting in the biggest impact on the bottom line.
I hope I sparked your interest and that you are intrigued by the idea of re-thinking how you can build digital experiences. If you are, or maybe have an initiative in the backlog and want to try this new approach with a proof of concept please reach out to me directly at niclas.mollin@occtoo.com and let's have a conversation!
You might also like: Thomas Davis about innovating Cartier's digital customer experience 4x faster with headless data
---
About Occtoo
Occtoo is an Experience Data Platform that fast forwards how digital officers, marketers and developers create relevant customer experiences everywhere. Unify all your experience data (transactional data, product data, customer data, content etc) with ease and access it from one single place. Make unique combinations of customer, context and content data and create an Experience API with a click to make the data available in real-time in any frontend, channel or device.