Competition in business is more tenacious than ever before and the role of tech management can be relentless. Your customers are reviewing other options with the click of a finger, and your competitors are continuously adapting to meet market needs, which makes the role of your digital team and tech specialists increasingly demanding.
In a digital world, delivering your customers an outstanding, unified experience relies on unified data and experience-driven marketing.
Whilst the digital revolution has enabled greater data collection, the real potential in putting the data to use is at most companies untapped potential. The reason being an internal system landscape that puts too much pressure on data integration and that does not scale in the frontend layer of the customer experience.
In this article, we take a look at how your existing tech stack could be negatively impacting your customer experience, and we explain how adding an Experience Data Platform will not only maximise your investments but will also make you the Top Dog of CX tech stacks.
Understanding your existing tech stack
If your company is using a stack of technology to store single domain data (CRM, PIM, CMS etc), then the data needed to deliver a great customer experience is locked into silos; meaning that you need to constantly build from the ground up to create an innovation or experience to access the necessary data.
These types of systems are designed to produce and store data, not to activate it and make it available in a frontend experience. This becomes a big challenge when you want to use your data to create seamless digital experiences for customers. For every new addition to the tech stack, you need to add more integrations which slows your team down even more and they are unable to adapt fast enough to changing behaviours. This, in turn, restrains their innovation and capability to meet customer demands. 
So how can an Experience Data Platform solve this and benefit your business?
What is an Experience Data Platform?
Experience data is a combination of enterprise data from your system of records (PIM, CRM, ERP, DAM etc) and contextual and behavioural data from your external digital destinations. An Experience Data Platform is a unified data layer that sits on top of your system of records, turning your enterprise data into experience data. This platform unifies your data assets without the need for costly and time-consuming integration projects and makes the data available in real-time on a global scale, using real-time APIs, while at the same time collecting new data from your digital destinations. With an Experience Data Platform you can create purpose-built APIs, consisting of the specific combination of data assets you need to deliver timely and relevant information to a specific customer experience initiative or new application.

Let me give you an example! Let's say you want to create a new mobile application to support your in-store staff. In the ideation phase you identify that you need product data, customer data, transactional data and geo-location data to build this channel specific experience. With an Experience API you can make these specific data assets instantly available for a developer to quickly build your frontend experience. Read the article about why

Experience APIs are the key to build digital experiences with speed and at scale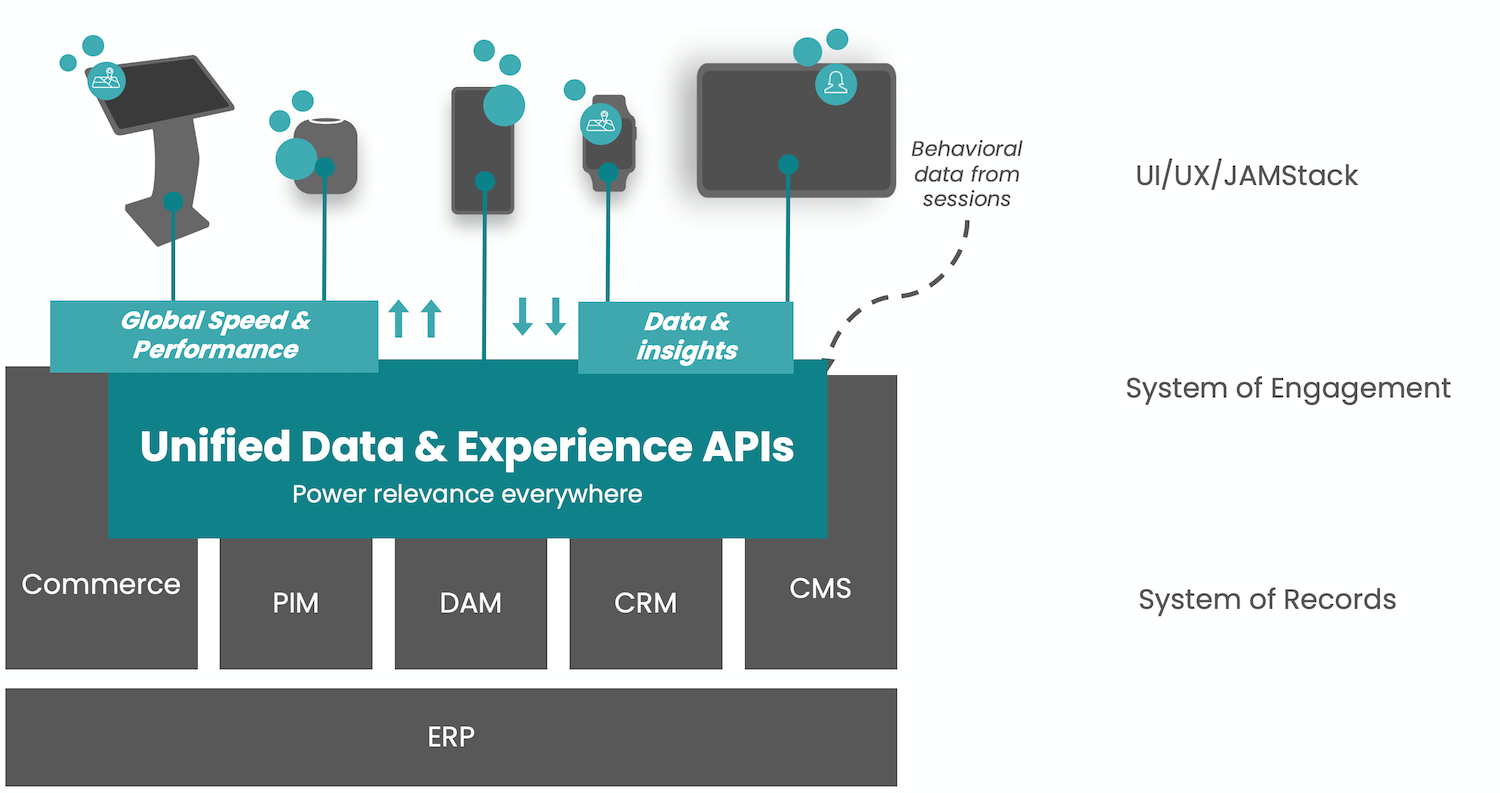 With Occtoo you can reimagine your stack with an API-first approach without the need of ripping and replacing your current stack. Rather enhancing the value you get from your previous investments in system of records putting the data to use where it adds value, in the customer experience layer.
7 benefits of unifying your experience data
1. Reduce data silos
Data silos create barriers and can slow down your business. The role of an Experience Data Platform is to unify and activate your data, bringing it to life for your customers using purpose-built real-time APIs. When you use Occtoo's Experience Data Platform, your digital team can instantly access all data they need without any need for time-consuming and costly integration projects. They can just pick and choose the assets they need to build a specific experience/application for a specific channel and frontend.
2. Adapt faster to changing market conditions
"Post Covid, countries are opening up again and there's an enhanced demand for self-service screens and other digital tools that allow customers to have a covid secure experience. The way to adapt to these changes at speed is to ensure all of your data is easily accessible, so you can quickly create a new experience in the channel of choice. An Experience Data Platform is the answer to this." - Jimmy Ekbäck, co-founder and CTO of Occtoo
3. Improve your customer experience by strengthening relevance
Harnessing your data in a collative way allows you to more accurately target the correct customers with relevant information and offers. This, in turn, improves the experience your customers have with your brand. You can build a complete custom data model tailored to your customer base and business, without being restricted by the data models in your existing platforms. Providing a more relevant experience will increase brand loyalty and positively impact your revenue stream from existing customers.
4. Spend more time on creativity and less time on data integration
With each new addition of data, your marketing team is given more information and less time to process it and join the dots; this not only means that they are missing out on opportunities because they are busy trying to access data, but they are also sacrificing time that could be better spent on creativity and enhancement. When all data is available at their fingertips, they can spend time and energy on things that actually improve the customer experience. What are the friction points in your customer journey? How can we make improvements to existing experiences to drive more revenue? These are an example of some questions they will have more time to work on.
5. Be 4X faster to market
According to research from the MACH Alliance, the average time it takes to launch a digital experience with a traditional approach is 6 months! Imagine knocking out the competition with a launch in just 6 weeks. With an Experience Data Platform in your stack this is your new reality. Global luxury brand, Cartier is a testament to this statement. By using Occtoo's Experience Data Platform, they have managed to build a stellar app universe with several new apps, at speed, and are better supporting their teams and customers across the world both in-store and online. They quickly added the Experience Data Platform without replacing their existing tech stack, making their previous IT investments even more valuable.  
With Occtoo we are able to easily access data from many different systems and distribute headless experiences into a variety of applications. Not only are we now 4x faster to market but our costs to build these experiences has lowered dramatically - Thomas Davis, Global Digital Operations Director at Cartier Read full article here
6. Scale your experiences globally, in milliseconds
With a serverless architecture and purpose-built APIs (that you can create with a click and with zero coding skills) you transform all your enterprise data into lightweight and consumable experience data, in real-time, in the frontend layer. You will quickly build up a bigger, more dynamic, and up to date data-pool, where all your digital touch points have instant access to. A great benefit when launching the next CX initiative on your roadmap.
7. Build experiences for any channel and context
With an Experience Data platform, you get a unified data-pool with data that your digital team can re-use and re-purpose across multiple channels and contexts. Your teams can quickly go from idea to deployment and launch a new experience fit for any context and channel. This means your customers get the same seamless experience regardless of whether they are browsing your mobile app on a sunny day in Sydney, discovering the assortment of products on your in-store screen in Miami, or researching a selection of premium shoes on your website in Buenos Aires.
Are you Interested to learn how you can easily modernise your CX stack and unify your experience data to build scalable digital experiences?
About Occtoo
Occtoo is an Experience Data Platform that supports retailers and brands to build relevant digital experiences and applications at rapid speed. Occtoo's SaaS platform makes it easy to access and unify enterprise data from backend systems such as CRM, ERP, PIM, etc. and combine it with behavioural and contextual data to create relevant digital experiences that can be deployed in any channel or frontend in real-time at a global scale. Occtoo was founded in 2019 and has companies such as Cartier, Fjällräven, and Nordic Nest on their customer list.
Want to learn more? Contact the team at Occtoo and learn how you can fast forward your customer experience innovation.