Gartner predicts that by 2023, 60% of companies will seek composability in their tech investments to gain speed and agility. Are you one of them making this transition?
In this article you will learn success factors and risks that are easy to avoid so your transition to Composable will run as smooth as possible.
This article is a transcription from the webinar "Getting started with Composable" that was hosted by Occtoo, CTO, Jimmy Ekbäck on the 25th of February 2023. See the webinar or read the summary below!
What is Composable?
That's the big question, and there are many definitions around this, but I wanted to start with looking at where Composable somewhat originated from and the reason it's here.
In the image below, I've illustrated the timeline for the frequency in which the tech stack changes for each section of the business. For IT and development their approach is strategic and it has longer cycles, for marketing and sales it's all about capabilities and making tactical decisions, and for operations it's about being operational. The timelines demonstrate that we need to be able to change things at different times, independently of other things.
We are aiming for decoupling the different parts of our stack and Composable architecture allows you to change smaller parts as the need arises.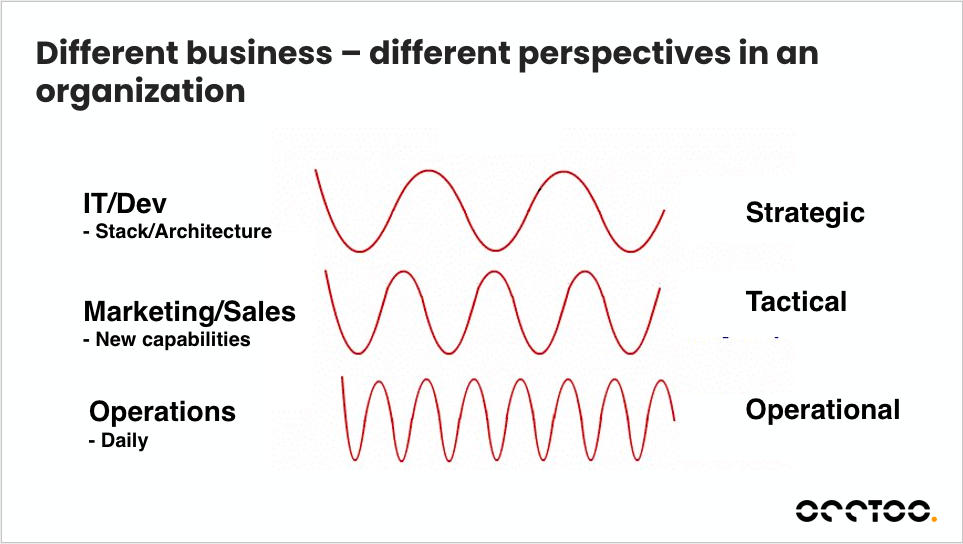 Gartner coined the term Composable, and their definition is defined in three levels.
Composable thinking:

Design principles that guide an organization's approach to

conceptualizing what to compose and when. This block prevents you from losing your

creativity

​

Composable business architecture:

Dynamic structural capabilities that help your

organization so it can be flexible and resilient.

Composable technologie

s

:

A composable technology stack is a collection of

different technologies that can be combined and configured to meet specific business

needs. This approach allows organizations to pick and choose the technologies that

best suit their needs, rather than being forced to use a one-size-fits-all solution.



Composable vs Monolith
One important concept to understand when we talk about Composable is that it is a way to move away from the Monolith. Composable exists because we want to move away from the monolith approach that has the notion that there is one system that can do everything, monoliths are also built on legacy technology which makes it impossible to scale the business to a reasonable cost and timeframe.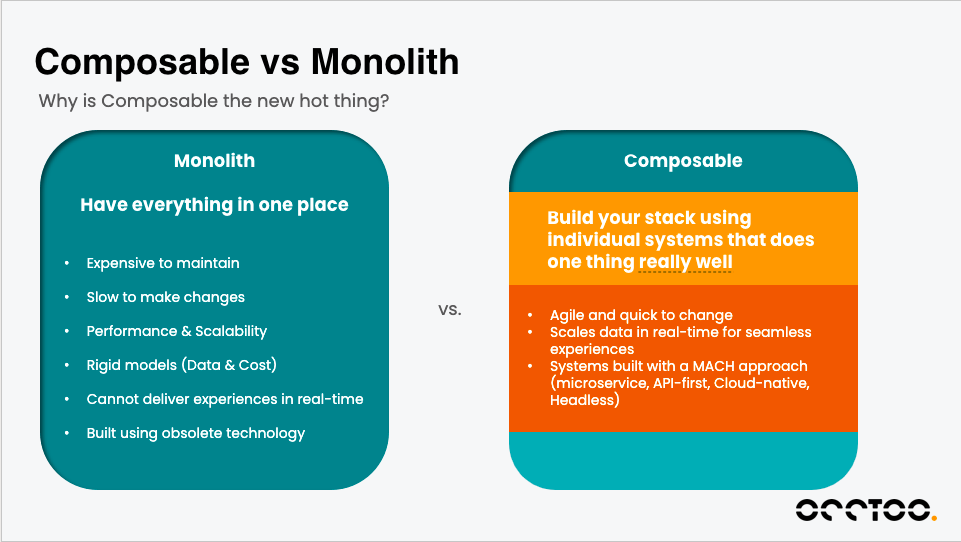 The below image is from the MACH Alliance which is a non-profit organization that is (re)defining how modern software is built. MACH is the definition of how the components in a Composable stack should be built; Microservices, API-first, Cloud-native, and Headless.
For a deeper understanding, read our quick guide to Composable.

Risks with going Composable?
Risks
How to avoid
Business teams can lose control over processes when they move away from a monolith and over-architecture the tech stack
Invest in systems & services that support developers but also digital business teams.
Disconnected data - that takes too much time/money to move data around

H

ave

a "data first" approach to have a

strategy for how your data should

be

unified and consumed

High pressure

on the tech

organization

-> Full back-logs

I

n

vest in systems that can remove the

pressure

for developers

, with all

"marketing" tactical initiatives needed
How to make the transition
Map out where the business needs to go

​




Pick

best opportunities/pains for your business and picture the task in smaller pieces

​

Make sure you have a team focused on the transition

​




Step by step

(internal or

with a good

partner)

Evaluate the different parts in your Composable approach


What are your business needs and what are your technical capabilities​?

​Start with connecting your data to quicker deploy new customer/employee facing experiences
Change first where it has the most impact

– buy time. Is there a new way to activate or make data available where it has previously not been possible?
Overcoming the disconnect data challenge
The downside of Composable is that your data is stored in separate systems that work independently of each other: e.g ERP, PIM, CRM etc. This creates silos of disconnected data.
An data activation tool like Occtoo's Experience Data Platform overcomes this challenge by making data unified, activated, and perform on your behalf for your customers in a multichannel approach, delivering that true Omnichannel experience. Occtoo makes that data available in real-time for any frontend or touch-point, whether it's audio, visual etc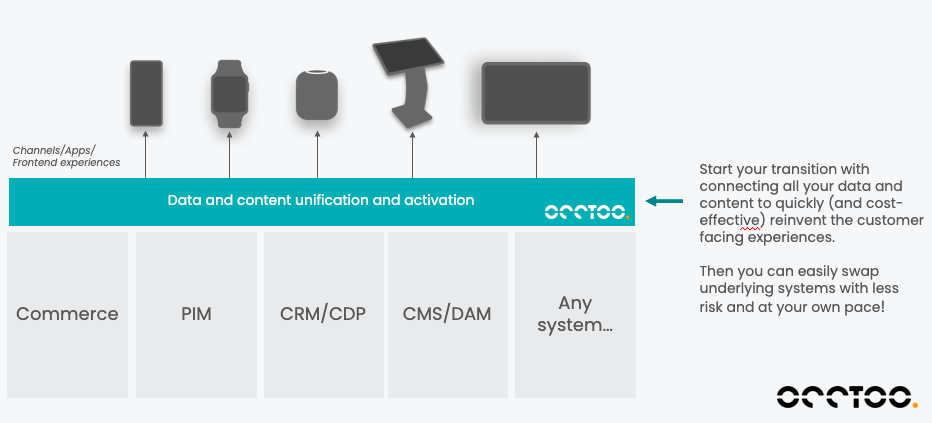 It makes a huge difference and can very much accelerate your Composable approach. So, my advice is to activate and unify your data before you begin moving to Composable; don't end up in this disconnected state with your data.
Learn more: How Occtoo connects data in your Composable stack
Final advice on Composable success
Start where you can make the biggest impact for customers, partners, and employees.
Lean on partners for support. This also enables you to add bandwidth to deploy more projects when you need to
Connect all of your data/content and remove the silos
Get in touch!
Reach out to me to discuss Composable success. Email me at jimmy.ekback@occtoo.com or connect with me on LinkedIn.