Are you curious about what it's like to work for a global remote-first company? Are you wondering how we collaborate with colleagues and how teams are managed across different countries?
We want to provide curious job seekers with as much information as possible about the culture of Occtoo, and the Managers behind the teams and this week I caught up with our Head of Development, Andreas Wellén to talk about how his team collaborates and what he's looking for in his next team member.
Learn more about working for Andreas' team and see his open job roles.
About Andreas
Andreas, native of Sweden, currently lives outside of Stockholm with his wife and three kids. In his spare time, he has been heavily involved in his kids' activities coaching two of them in handball among other things.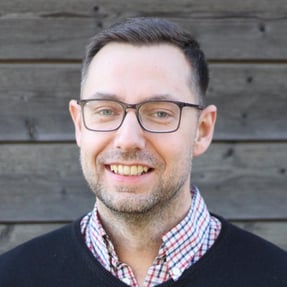 He also enjoys digging deep into different interests which in recent years has included chilli growing and artisan bread baking.

Having a background in eCommerce consultancy, he knew the founders and several of the early hires at Occtoo. Great people together with a great product that really could tackle the problems experienced in previous projects had him attracted to Occtoo.
Hey Andreas, can you tell me a bit about how your team is structured and what you're responsible for in the business?
The technology team consists of my team and Jenny's team: Jenny's team works closely with customers and partners to support the applications built using of Occtoo. My team are responsible for building and maintaining the core product.

We are currently a team of two frontend Developers, 6 backend Developers, one Architect and one Product Manager.
How would you describe yourself as a team leader?
As a team leader, I would say my role is to aid a group of specialists with the direction on how we build out the wants and needs for customers and partners.

I ensure my team have what they need to do their job, such as resources, sign-offs etc. I'm not a boss but more of a side-line coach focusing on helping the team get to where we need to be.

The leadership style I represent is moving away from the old-school way of what I would refer to as 'adult day-care'. I trust my team and I don't need to know what they are doing 24/7. At Occtoo we value flexibility and understand that people have families, and at same time respect their professionalism and ability to manage their own workday.
How do you function and collaborate as a remote team?
We run scrum in 2-week periods and see each other every day for a 15-minute update on what we're working on and discuss and impediments we might have. Then we have a couple of non-mandatory Fikas (a Swedish tradition where people gather to eat, drink and talk) planned over the week where we just chat about random things. On top of that I schedule bi-monthly 1-2-1's with my team members for a twenty minute catch up on where they are at, head space, if there is anything concerning them. It's more of a personal catch up to see if there is anything more we can do to support them.
What traits are you looking for in your next team member?
Everyone in my team is different and brings their own personality to the team. The common theme is that they want to be a part of something big they're always looking for that vision or something to work on. I'm looking for someone who would thrive in a remote culture and is senior in their mindset enough to self-motivate and manage their own tasks. I don't manage day-to-day workload; I set the direction for the team and rely on them to manage themselves. That's the type of teammate I'm looking for.
How would you measure success?
Success for me would be that we as a team we are achieving what we want to achieve. As individuals, I want them to feel like they are growing and becoming superstars. That encompasses the Occtoo culture.

If I can create an environment where people don't want to change their workplace, they are getting enough freedom and enough of a challenge to want to stay, then that would be a success for us all.
What advice would you give to somebody who is thinking of applying for a role on your team?
Everyone in our team is equal and despite the length of experience each person has, I will value inputs equally. We all have different perspectives, and those perspectives only enrich the team.

You should ask yourself what interests you about this role and why. Those discussions make for the most honest and strong interviews.

I don't view an interview as an opportunity for the applicant to impress me, I see it as a two-way conversation between peers. We have the need, and you have the skill and then we see if we match on culture and competency. Applicants should be open and transparent and know why they're applying to our specific company. I love the interviews where people come in with a lot of questions.

Before applying I would say, have a think about what interests you, why are you really attracted to this role, and what information do you need from me to help you decide if this role is right for you.
Are you interested in joining Andreas' team?
Andreas is currently recruiting remote Developers. See our open job roles for full details of this exciting opportunity.