Our team is the most important factor in our success story, so we want to provide curious job seekers with as much information as possible about the culture of life at Occtoo.
This month I caught up with the wonderful Nadya Bouaouich from our Sales Development team.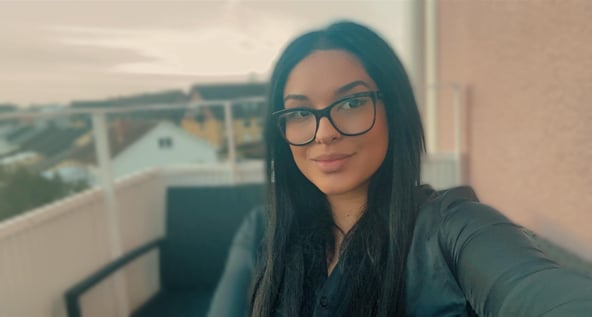 Read about Nadya's experience with Occtoo, and how her passion for travel, remote work, and being part of something exciting played a big part in her decision to join the team.
🚀
Hey Nadya, can you tell our readers a bit about yourself?
I'm 25-years-old and based in the south of Sweden. I work in the revenue team as a Sales development representative.
My parents emigrated from Morocco to Europe in the 80's and growing up between two different worlds has made me a curious and open minded person. I love to explore and learn new things.
You will probably find me at a bookstore in Milano, a chocolate museum in Hamburg, or eating some raclette in Switzerland. During my spare time I enjoy calligraphy, playing video games, hanging out with family or friends, and travelling!
How did you hear about Occtoo and what made you apply?
I was about to take my degree in Management, and I was searching for work and came upon Occtoo. The opportunity to work remotely attracted me, as it creates a perfect work-life balance. It fitted my personal life and working in a start-up company gives me more opportunities to develop my career.
The opportunity to ''Be part of building something new'' hit me differently and I had to apply. The world is moving to an increasingly digital state, on all fronts, and I wanted to be somewhere with a product that could disrupt the market. I just love that adrenaline.
How would you describe the culture and work-life of Occtoo?
The company culture is amazing! We're surrounded by hard-working, ambitious people that come up with innovative ideas and solutions, and the entrepreneurial spirit is very contagious here.
There's always support if you need help and you are constantly challenged, your voice is heard and your work is recognized. I'm never bored at work because things can change so quickly. It's fast acting and we put quality over quantity. You develop this mindset of thinking outside the box, and it helps you adapt and grow.
Working closely with everyone means you get to see how every department works; I like to call it helicopter-perspective. You learn to solve problems differently and find solutions you wouldn't even think of. You learn something new every day. Everyone around you has the same excitement and drive and that makes a huge difference compared to working for a corporate. It's a different mentality, and at Occtoo you learn from the best people.
Is there a true team connection with remote work?
When I met with my colleagues in Stockholm for the first time, I felt like it was the same team connection that we have when we meet virtually. There is a true team connection and I couldn't imagine working at a better place at this early stage of my career.
Read why Occtoo is building a global remote-first company and what it means for our people
Do you take advantage of the flexible working?
Absolutely. I can work from a different country and do what I love. I can go where the wind takes me. My personal growth simply doesn't stop, and it has changed my life. You can manage to have your own personal life and space and still work. There is true work-life harmony, which is something that I value a lot, and if I want to meet colleagues I just head out to the office in Malmö and enjoy my workday there.
What would your advice be to someone who is considering switching to remote work?
You have freedom and flexibility which builds trust and enhances your job satisfaction. You are not bound to a certain location and many people are more productive when they are in their own environment. You feel less stressed because you don't need to rush to appointments. I was initially unsure of how much I would learn from working remotely, but I have nothing to worry about. I am given the same opportunities and teachings as I would have in the office. I highly recommend working remotely!
What would you say to anyone thinking of joining your team?
Hello and welcome! Choosing to join our team will be a life experience and people here have become more than just my colleagues. Since we are a small team, we work closely and are aligned to achieve the same goals. You also get insight and a foot into other departments in the company, which is an opportunity for you to see more of how the business and IT world works.
Occtoo is a diverse company and you will grow professionally and personally. Although we mainly work remote, we do occasionally have meet-ups and gather and enjoy the time. You will always be given opportunities and the chance to learn a new skill: this enhances your potential for success and creativity on every level and you will have bigger wings to spread.
Want to join our team?
Are you considering joining a company that's remote first? We might have just the job for you!
Occtoo believes digital collaboration and continuous learning combined with ambitious goals and a strong focus on work-life harmony is key for success both for our people and our business.