Speed of adaptation and innovation are key for brands who want to lead the way in digital experience and omnichannel retail. Delivering new and improved experiences to your customers is more demanding than it's ever been, and so the strain on your technology.
These demands aren't going away, so the only way to meet them is to become more agile. This means building your tech stack with the right solutions for your organisation, reducing the time and cost of lengthy integration projects, and finding an easier way for your digital teams to access and deliver data to new frontend digital experiences. Switching to Composable architecture could be your perfect solution.
In this article, we'll walk you through some very concrete challenges three companies have solved by moving to a Composable architecture.
Composable Architecture is a tech stack built from an ecosystem of individual systems sharing their data via APIs. This modular setup enables a business to rearrange and reorient as needed depending on external or internal factors like a shift in customer values or sudden change in supply chain or materials. Read our quick guide to Composable Architecture
Nordic Nest
Nordic Nest are firm believers in using a Headless 'best-of-breed' strategy where they can invest in niche components that do one thing very well. They don't believe in a monolithic approach as it stops you from making changes fast and also significantly slows down business growth. They need to support high volumes of sales and to be able to deliver a good customer experience while supporting that volume of orders, they need their systems to be highly scalable and responsive.
The traditional Headless/Composable approach is very developer heavy and that made Nordic Nest heavily prioritize projects in their backlog. This meant that they could not bring as many digital initiatives to the market as they wanted to. They decided to add Occtoo's Experience Data Platform to their Composable stack which connects all data from different systems in a no-code user interface without the need for time-consuming integrations which freed up time from their developers.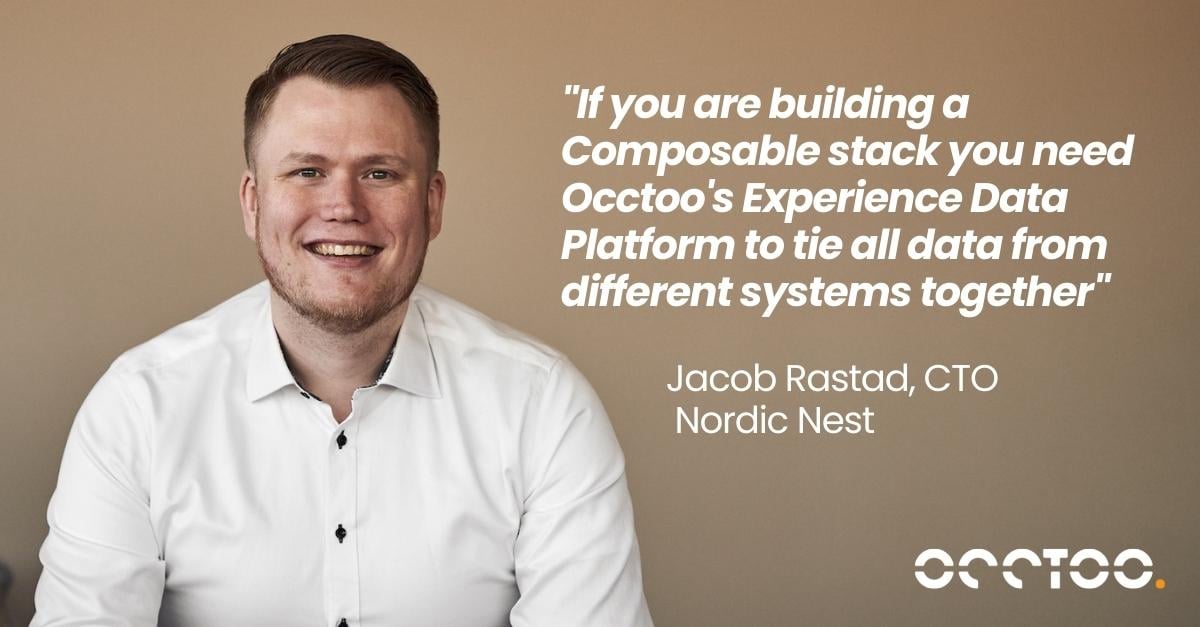 We can adapt much faster to changes in the market. If a system is not performant enough or if we've outgrown it, we can just change that specific system without it affecting all other parts of our stack which would have been the case if we had gone for a monolithic approach. At Nordic Nest our speed and agility are our main success factor, our technical choices are always made to support that. - Jacob Rastad, Chief Technology Officer at Nordic Nest
You can also listen to Jacob Rastad explain their strategic thinking behind going Composable in this webinar.
Outfit International
Outfit International is a Scandinavian Hunting brand producing high quality hunting gear. They own two leading hunting brands in Europe, Seeland and Härkila. Their goal was to produce two new websites with a world-class customer experience. To do this, they needed an easy way to access, unify, and deliver their data to tailored APIs designed for each site.
They needed a better way to access data from their PIM system, their ERP and their CMS, and deliver all relevant to the new digital experiences. They chose to unify all of their various sources of data from these systems in Occtoo's Experience Data Platform to add more composability in their customer experience layer. In Occtoo's Experience Data Platform a unique API can be created for the frontend experience, with access to ALL the data that experience demands.
With all data now connected in Occtoo's platform, Outfit International can serve future digital experiences easier than ever!
MQ Marqet
MQ Marqet (formerly known as MQ) was founded in 1957 and offers a timeless assortment of fashion for men and women that can be worn for both business and leisure. They are the largest fashion brand retail chain in Sweden, with 90 stores located around the country. In addition, they have a digital store at mq.se.
To achieve their ambitious growth goals over the next few years, they are expanding the digital part of their business, meaning both their e-commerce but also digitalizing their stores. To achieve success they needed to use the best solutions in their tech stack and then find a way to instantly access data and easily be able to re-use it across their different digital initiatives. The solution for them was to unify their data in Occtoo's Experience Data Platform (XDP) so they can orchestrate all their digital experiences from there. Some of their digital initiatives so far is; expanding to 7 new markets through Zalando, launching a digital store concept (including digitalizing their fitting rooms) and launch a new B2B e-commerce store. All this has been done under 18 months!
MQ Marqet have now created several new digital experiences at record speed with easy access to all of their data in Occtoo.
We have radically increased our speed of execution now that we have all experience data instantly available in Occtoo. We never have to wait for an integration before we can get started with a new digital initiative - Mattias Liljenberg
Occtoo helps you make an easy switch to Composable
With Occtoo you can fast forward your ability to innovate by saying goodbye to old ways of building digital experiences. Long gone are the days when digital teams needed to wait for time-consuming and costly point-to-point integrations. Instantly unify the data in your composable stack into a low-code user interface with Occtoo's Experience Data Platform and re-use it across channels.