Customers today expect a seamless omnichannel experience when interacting with your brand, so digital leaders need to create a better foundation for a more agile and flexible way of working and launching new digital initiatives – the answer is to build a Composable architecture enabled by a MACH setup.
MACH is an acronym for a technology that is Microservices based, API-first, Cloud-native SaaS, and Headless.
To build your tech stack with a Composable architecture you create an ecosystem of individual systems sharing their data via APIs.This modular setup enables a business to rearrange and reorient as needed, depending on external or internal factors like a shift in customer values or a sudden change in supply chain or materials - but there are complications to consider.
The big issue you could face when you switch to Composable architecture ...
The biggest challenge you'll face when switching to composable architecture is that you'll need to completely rethink how you design and build your applications. In a composable architecture, your components are loosely coupled and can be easily reused and recombined. You can combine components from different vendors with different ways of working, different needs for data, and different ways to expose this data.
While switching to composable offers you the major benefit of making your data highly available in various APIs and ready to be consumed by developers, it also means that all your data spread out over various APIs, in different formats, and in shifting scalability for your developers to handle, interpret and combine.
Another issue you could face is how to use enterprise data from the systems such as your PIM, DAM, ERP, etc. This data is often locked into silos where it has its own structure and format. The majority of these systems do not conform to the MACH-principles and can quickly become an issue for going Composable. Each system has its own way of exposing its data and it is very rarely scaled and usable for servicing front-end experiences in a composable setup.
Here's the first step to take to avoid these complex integrations in your Composable architecture
To get the most value and flexibility out of your Composable architecture, you should be able to adapt and change parts of your tech stack as you go. If a certain component doesn't fit your changed requirements, it should be easy to swap it out without having to think about all the different integrations or systems that this component is feeding or gathering its data from.
On-boarding an Experience Data Platform gives you full flexibility to grow with your solution and be agile to the future changes and adaptations that you make.
An Experience Data Platform sits like a layer over the top of all your data sources and unifies your data assets without the need for costly and time-consuming integration projects, while at the same time collecting new data from your digital destinations.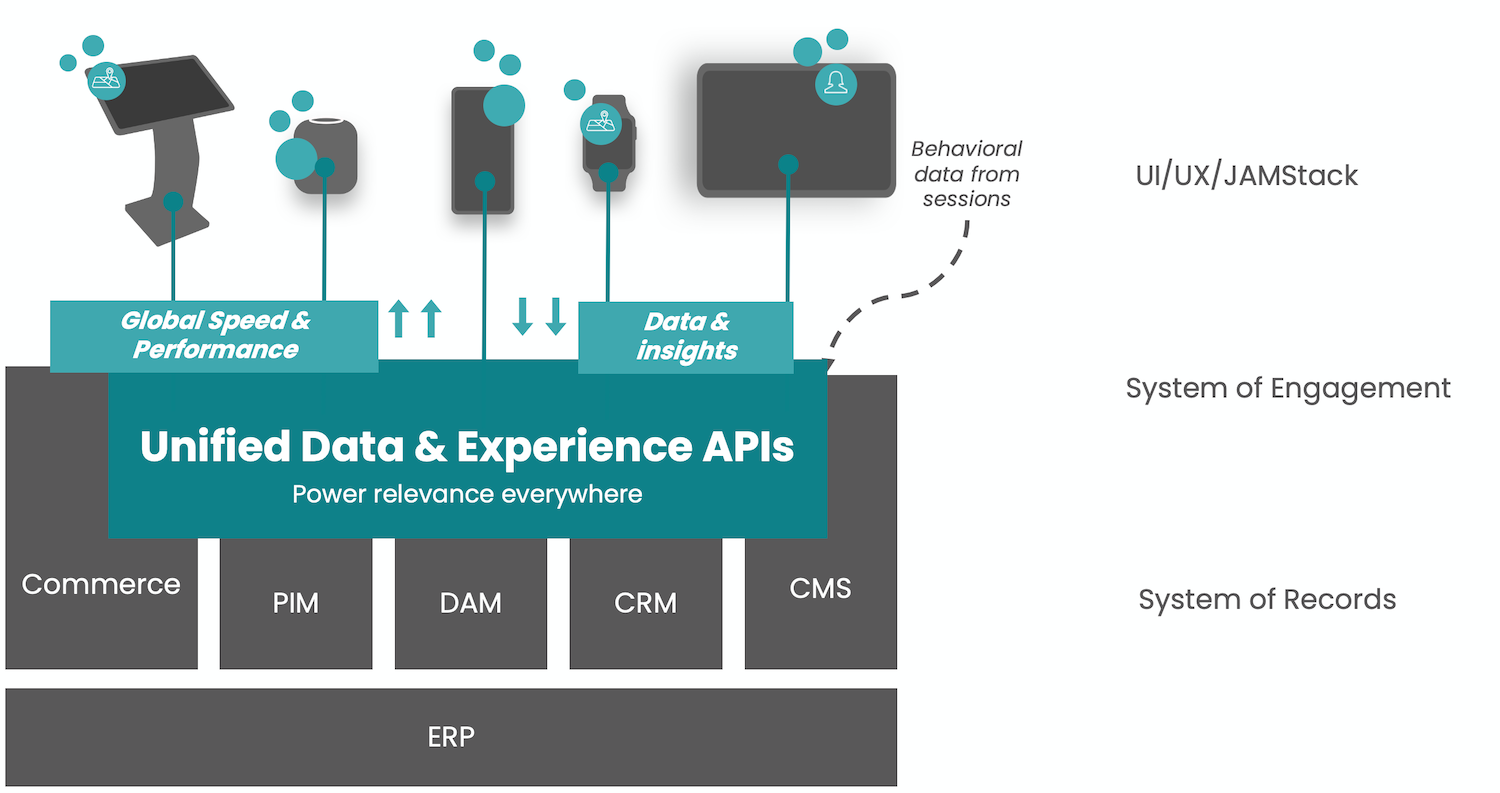 When you want to start replacing parts of your tech stack, you simply change that one component and onboard that new data set to the Experience Data Platform. The rest of your data is already there, and your digital experiences have next to zero disruption. This means your customer-facing applications can still run smoothly as you continue to swap the rest of the components in your stack at your own pace.
By starting your Composable Architecture journey with an Experience Data Platform you can quickly reap the benefits of Composability in the customer-facing layer (where it adds the most value), while you set yourself up for less risk as you continue to swap the rest of the components in your stack.
One of the biggest bonuses with this type of software is that your digital teams can easily access all their data from different systems in one place (e.g., customer data from CRM, product data from PIM, transactional data from ERP) and deliver selected data to any frontend experience without spending months on data integration.
Adding an Experience Data Platform (XDP) in your Composable architecture will give you huge benefits. Here are the most important ones:
Lower integration complexity, integration costs, and TCO

Majorly reduce time to market for your digital experiences

Futureproof your solution for implementing new components and tools

Reduce your risk and increase the stability of your digital experiences

Improve the performance of your digital experiences

Unify data from separate data sources

Make data available in real-time on a global scale

Collect analytical data from your digital destinations
How does it work?
Your developers integrate all your sources of data into Occtoo's Experience Data Platform only once. Your data can then be re-used over multiple experiences and your team can create a new API with the data they need for each separate digital experience your business creates.
The setup allows digital teams and business users to handle the day-to-day management in no-code environments, and there is no need to conduct a complex integration project for every single project anymore.
With your data no longer spread out over different APIs; you now have all the relevant data in one place, this is when you can start combining and unifying the data, making sure that the data is in a format suitable for your immediate need.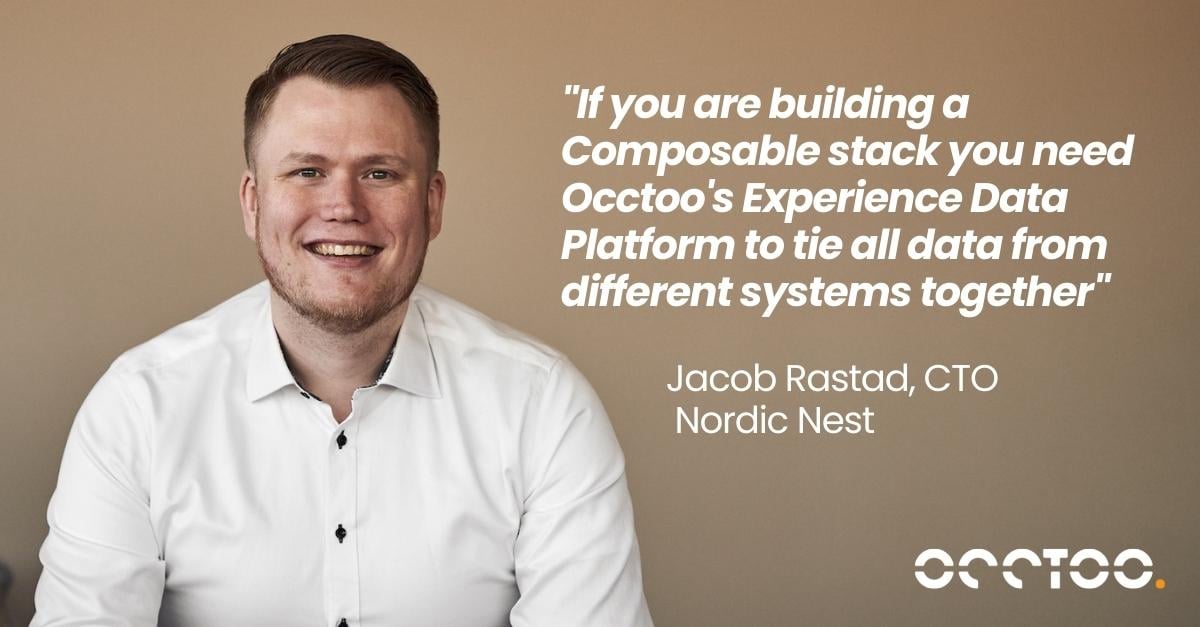 With Occtoo, digital leaders at companies such as Cartier, Fjällräven, and Nordic Nest have been able to deploy 4x more initiatives from their CX roadmap, re-use data across their digital experiences, and spend less time and money on integration and more on customer innovation.
Occtoo is the first MACH Alliance member in the Data layer - Bringing capabilities to create a relevant customer experience everywhere.