Retailers generally agree that they need to ship more digital initiatives faster to stay relevant, and customer demands are at a peak and are ever-changing. The problem usually boils down to the delivery of those digital projects: too much time and money is wasted on integrations rather than on activities that improve the end customer experience. This slows everyone down, but it doesn't have to! 
MACH is a composable approach to your tech stack, allowing you to combine best-of-breed solutions. With Occtoo in that stack, you can combine and activate data from any system in new experience APIs, to deliver outstanding unified customer experiences without building them from the ground up. I truly believe this is the answer to faster and more adaptive CX innovation.
Here's how your current "old" tech stack is negatively impacting your CX innovation
Typically, organizations invest in technology to store and maintain single-domain data (CRM, PIM, CMS, etc). These systems tend to be built on old legacy technology; this leads to data being locked into silos within systems of records (Enterprise data). This fragmented data landscape makes it increasingly difficult for companies to deliver an outstanding and unified customer experience in the customer-facing frontend. 
 In this "old state" and with this setup, unleashing innovation and launching new experiences means constantly building everything from the ground up. It's time-consuming and often very costly. Furthermore, your digital teams and marketers become cornered and can't adapt to changing customer behaviours at the speed needed. New projects can take more than a year to launch, and in this age, you simply can't afford to adapt at such a slow pace.
Adopting a MACH approach prioritizes the customer journey, and the tech stack follows
MACH is an acronym for a technology that is Microservices based, API-first, Cloud-native SaaS, and Headless.
MACH supports a composable enterprise architecture in which every component is pluggable, scalable, replaceable, and can be continuously improved through agile development to meet evolving business requirements
 This new, composable structure means that back-end developers and individual system suppliers can focus on making their data available through APIs, which until now has been very tech/developer-heavy and has been available only to very tech-savvy organizations. This approach is now moving into a groundbreaking low-code state making it available to less technically mature organizations.
MACH/Composable moves you from a developer-heavy approach to a business-user-first approach
Occtoo is an Experience Data Platform (XDP) that takes MACH/Composable into a low code state being able to be operated by business-oriented digital teams.
An Experience Data Platform (XDP) unifies data and content assets from CRM, PIM, DAM, ERP, and other backend systems with behavioural and contextual data from digital destinations into a no-code studio. This data is instantly available for digital teams to connect and combine as they wish into new real-time APIs, without any coding skills: meaning they can build new digital experiences for any channel at lightning speed and lower cost. This reduces risk significantly because the scope of your digital projects becomes more predictable and you can test and try new concepts without it costing a fortune.
Occtoo is a key component in a MACH architecture, being the unifying place for your data but more importantly, the one interface to fuel data in real-time to your frontends creating relevant experiences in no time. All data from Occtoo Studio can be fully operated by digital teams themselves without the need to execute tons of integrations.
Watch our video introduction to Occtoo's no code studio, by CX Technologist, Larre Ländin
Every time you have a new digital initiative in mind you just create a new Experience API (Occtoo Destination) with a click, to serve your next screen or app with the exact data needed for that specific experience. As the number of channels/screens customers expect to interact with and consume data from are exploding this approach is the only way to manage these expectations over time and at the scale. All data is re-used and shared across channels so you can orchestrate all experiences from Occtoo.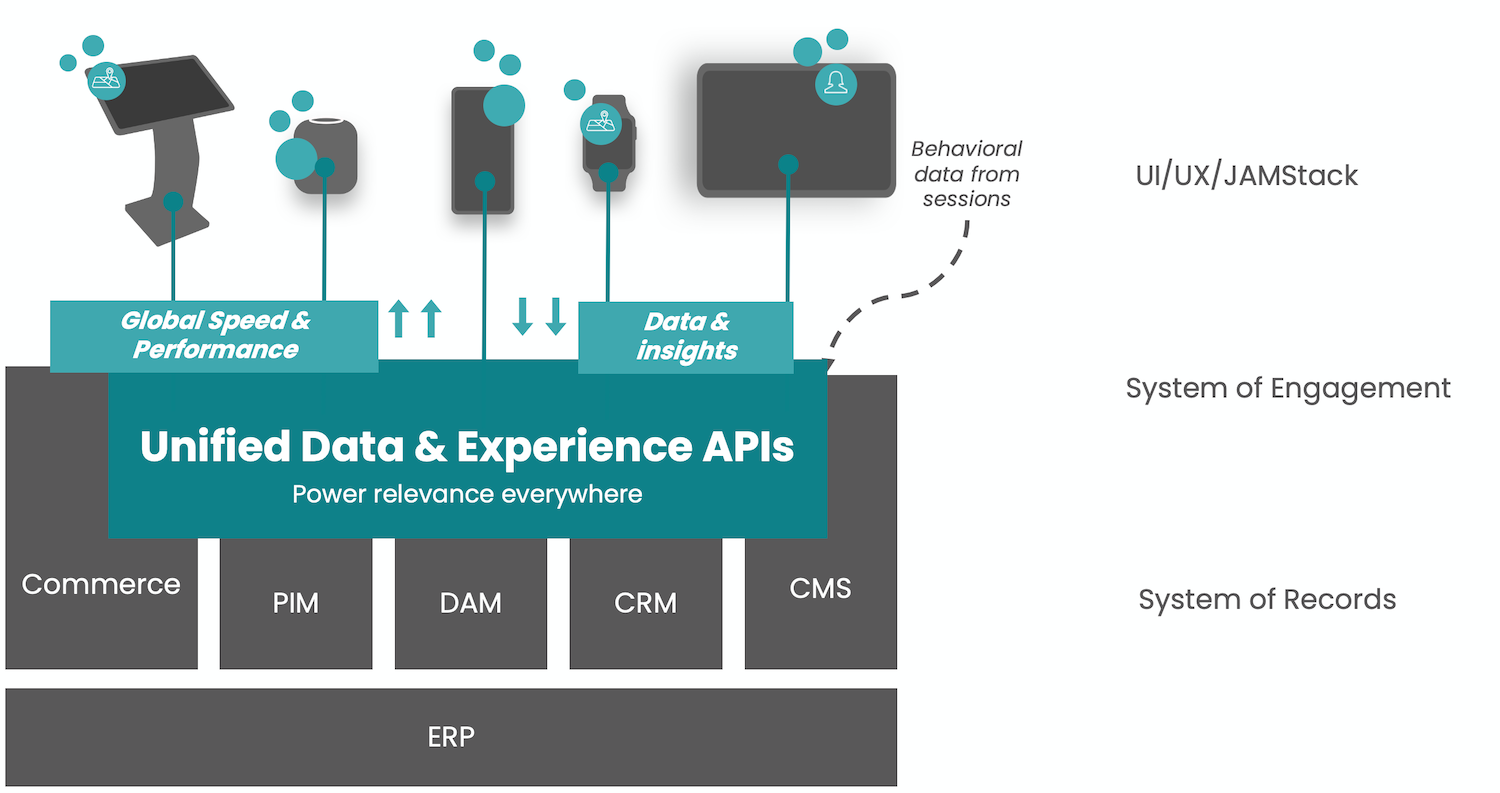 Give digital teams instant data access and make them react faster to CX demands
By using Occtoo's Experience Data Platform you can reap the true benefits of speed and agility by going MACH/Composable but without the hurdle of having created a developer-heavy setup. Your digital team can instantly access all data in our no-code studio and can craft new experiences and react faster to changes in the market than ever before.