This year, the list of digital initiatives to improve customer experience is longer than ever. This means you need to find and prioritize the smart efforts that give you the most bang for the buck and set you up for long term success.
In this article, I'll outline why an investment in Unified Experience Data should be at the top of your list, to create an improved customer experience and to better prepare you to deliver on your future CX roadmap with higher speed.
First, what do we mean by Unified Experience Data?
Unified data is a consolidation of all your experience data (customer, product, transactional, behavioral, content etc.) that usually lives in different systems such as ERP, PIM, CRM, DAM etc. into one single data layer.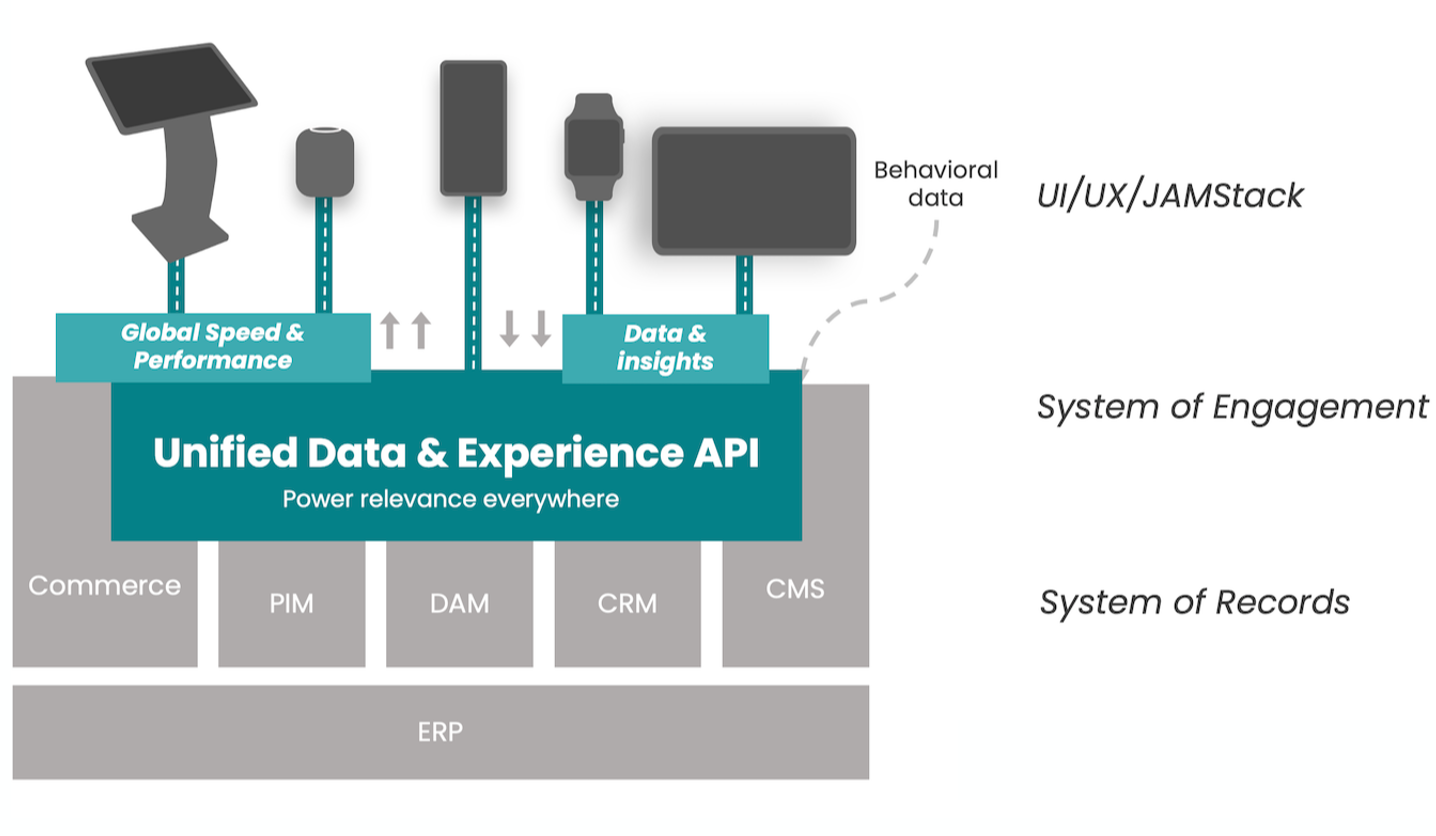 Benefits of investing in Unified Experience Data for customer experience
Increased business resilience (your CEO will love this)
The fact is that data is the fuel every modern business, and for leading digital challengers, their ability to quickly react to changing market circumstances will decide on their long-term success. Your data is the core asset empowering you to react and launch new customer experiences, and having it available in a way that enables you to change path quickly is crucial. This will make your business more resilient.
Who has time for months of data integration when your competitors are digging deeper into your revenue stream by the day?
Improve speed to market significantly
Having the ability to unify and expose your experience data in one place will empower your digital teams. It will dramatically shorten your idea-to-deployment process and it enables you to create experiences at scale.
We've seen customers who built a new e-commerce shop and right before deployment realized that the experience they had designed required data that was not accessible to them. Instead of beginning a time-consuming integration project the traditional way that would have taken months, they simply combined data from this source into their unified data pool and made it available thru the APIs already, in just a couple of days.
Get out of the time-consuming spaghetti integration mess
Unifying your experience data means you no longer need to move data between databases and data models that aren't built to fit together. Stop building the same integrations over and over again with the purpose of shuffling data back and forth between different systems: this dilutes your data, takes a lot of time and needs long term maintenance. This is time and effort that instead can be spent working on initiatives that adds customer value.
---
You might also like: Christian Bader about fast forwarding Fenix Outdoors customer experience innovation
---
Be relevant everywhere
Unifying experience data will speed up your launches of digital initiatives. You will be able to instantly access all data to build an experience tailored for a specific context, such as your website, in-store displays or mobile app. As your customers interact with you, your data will adjust to maximize that interaction in real-time and create a relevant experience. You can also collect new behavioral and contextual data for insights to fuel other channels with better experiences.
Enable innovation and creativity by making CX teams data autonomous
I have so far not met a company that can support the different digital initiatives that is needed to meet customer expectations and employee empowerment. Data always lives in silos and getting access to data always comes down to tough internal negotiations and prioritizations, resulting in frustration and team friction. To enable innovation, you need to make sure that your data is available for the customer experience team. An empowered employee can do magic. If your team have instant access to the data, they can spend more time being creative with the data and actually innovate the customer experience instead of spending their time trying to access data.
Our customer Thomas Davis, Global Digital Operations Director at Cartier states it well:
"My team can now focus on designing the experience they want, and it can easily be built since they have instant access to all necessary assets. We have taken the handcuffs off our creative team."
Read the full interview with Thomas Davis of Cartier here.
I am of course partial, since one of the core capabilities of Occtoo is to unify data. But give me one reason why it is better to lock data in separate systems? If you think this sounds interesting or want to discuss the topic further, please reach out to me at niclas.mollin@occtoo.com or connect with me on LinkedIn.
About Occtoo
Occtoo is an Experience Data Platform that fast forward how digital officers, marketers and developers create relevant customer experiences everywhere. Unify all your experience data (transactional data, product data, customer data, content etc) with ease and access it from one single source. Make unique combinations of customer, context and content data and create a tailored real-time API with a click to make the data available in real-time in any frontend, channel or device.