Ingvar Larsson took on the role of CEO at fashion retailer MQ Marqet during the fall of 2018. Since then, he has outlined a whole new strategy for the company that spans the entire business including repositioning, assortment development, operational efficiency, and go-to-market strategy. In this interview, he tells us more about the initiatives they have executed to take MQ Marqet to the next level going forward!
Hi Ingvar, tell us more about you!
I have a background in fashion and retail, starting my career within H&M where I worked for 12 years in various positions both in Sweden and internationally. I've also worked at Swedish retailer Lindex for 7 years in various positions, among others Group CEO, before I started at MQ Marqet in 2018.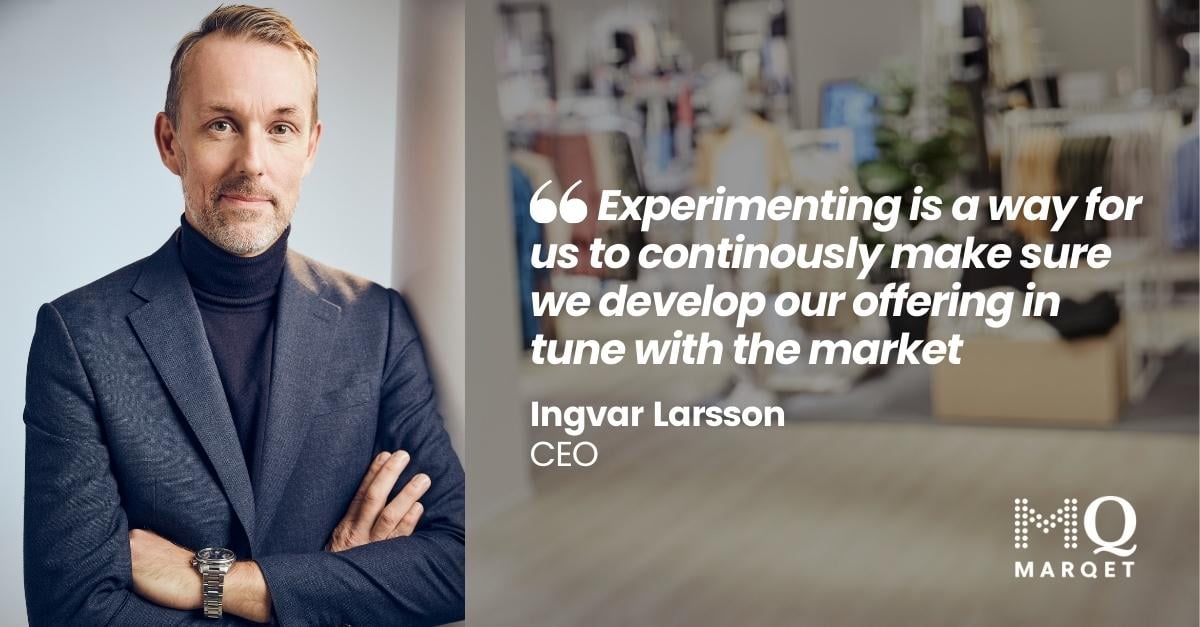 What would you say makes MQ Marqet unique?
Our brand is built on premium style and quality offered at an accessible price point. We offer both our own brands STOCKH LM, Bläck, Dobber, and Bondelid in addition to 3rd party brands that have been carefully selected. The assortment makes our customers' closets more sustainable since our items have both the quality and style to make them last for a very long time. We also offer a wide range of garments to be able to dress customers for every moment in life, whether it be for a work interview, summer party, or going to the office.
How would you describe your core customer and what is important to them?
Our core customers are both women and men that care about quality and want to look good without it taking too much time and effort. They care about a nice assortment, exceptional service, and good fashion knowledge to guide them in their purchase.
What have you done to meet those customer expectations?
In addition to developing the assortment and our digital business, we have also worked a lot with offering different types of services in our stores. Today our wide range of services include access to;
A personal shopper to find your perfect outfit
Cleaning of sneakers to prolong their lifetime
Access to a tailor to make clothes fit perfectly
The possibility to rent a garment instead of buying
Second hand shopping in collaboration with Myrorna
Digital store concept for more self service and possibility to ping staff from the fitting room
Our latest initiative has been to test a digital concept in-store with a digital suit guide and digital screens in the fitting rooms where the customer can ping the store associate to bring them another size/color or read more about the item they are trying. We believe using digital tools is a nice way to modernize the traditional store experience and we are executing several digital experiments.
Read more about the digital fitting room here.
How do you work with experimentation?
We think it is important to run experiments at a smaller scale, for example, the digital store concept was launched as an MVP in one store. Then we listen to how the customer responds, if we see that they like it we scale it to our 90 stores. We collect both quantitive and qualitative feedback. Sometimes the feedback from the staff and customers is even more important than the data and we listen a lot to those signals.
What part does the digital business play in your growth going forward?
Our digital business, including our e-commerce store and external marketplaces, are growing fast and drive today 20% of our revenue so it has a significant impact for us. We have recently launched our own brands on 7 new markets on Zalando. We also think that layering digital into the overall customer experience with different services is important to increase service and loyalty. Today there isn't really a clean-cut between these channels.
What strategic investments have you made to support growing your digital business?
We have invested in an e-commerce re-platforming, adding robots to our warehouse handling, and of course invested in Occtoo's Experience Data Platform which has been an important part of this transformation. We would not have been able to execute so many things for the digital side of our business over the last 18 months without the easy access to data from our backend systems we get through Occtoo. It has reduced time to market and our integration costs significantly. In addition, we see it as a strong enabler to support our experimental approach, because we can execute faster and at a lower cost, this means we also have higher confidence to try out more things because the risk has lowered.
The last 18 months we've had an incredible speed to market due to the investments we've done. It has really set us up for our next chapter
Where do you see MQ Marqet in five years and what will you focus on next to get there?
Apart from growing our business in Sweden further, we want our own brands, STOCKH LM, Bläck, Dobber, and Bondelid to have grown to become brands that are also recognized outside the Nordics. In addition to that, we will also expand our footprint to the B2B market where we will offer our assortment to companies that want to buy quality wear for their staff. This B2B e-commerce store is estimated to be built in only a few weeks because we build it using Occtoo's Experience Data Platform. It's that type of speed to market that will enable us to take quick leaps forward and make sure we develop our offer in tune with customer expectations. We've done a lot, but we are still just getting started!
Want more stories like this? Subscribe to our free monthly newsletter FastForward and never miss a new CX story!
Want to learn more about Occtoos' Experience Data Platform? Book a demo now!
About Occtoo
Occtoo is an Experience Data Platform that supports retailers and brands to build relevant digital experiences and applications at rapid speed. Occtoo's SaaS platform makes it easy to access and unify enterprise data from backend systems such as CRM, ERP, PIM, etc. and combine it with behavioural and contextual data to create relevant digital experiences that can be deployed in any channel or frontend in real-time at a global scale. Occtoo is certified by the MACH Alliance and has companies such as Cartier, Fjällräven, and Nordic Nest on their customer list