Gartner defined a new concept in late July 2022 called 'Digital Experience Composition' as part of their Hype Cycle for Digital Commerce and defined it as:

"Digital Experience Composition (DXC) is emerging to handle digital multiexperience orchestration in a "headless," decoupled, composable world. Extending from front end as a service (FEaaS) or "visual page builders," these tools allow developers to set up digital experiences and hand them to business users for day-to-day management in no-code environments. They provide API connectivity to headless services like CMS, search or commerce."
What does DXC really mean?
Simply put, a DXC is a platform, tool, solution or service that can empower organizations to create, manage, and deliver highly engaging and personalized digital experiences to their customers across multiple channels and devices, without having to worry about the technical nitty-gritty's as these tools/solutions/platforms/services are usually no or low code and often provide a range of features to aid organizations in managing content, data, and user interactions across different touchpoints, including websites, mobile apps, social media, email, and other digital channels. These tools deliver API connectivity to headless services and help developers to create digital experiences in no-code environments.
An easy way to understand DXC is to think of an Amazon shop, you can simply opt for Amazon services, subscribe to their model and start selling your goods instead of setting up a brick-and-mortar store from scratch by yourself or going through the hassle of opening your own online store. A DXC will not replace your existing website or business but rather boost it to the next level by doing the hard and often grinding technical work for you so you can efficiently focus on business productivity and output rather than the mechanics of how to create digital experiences. From launching e-stores to hyper-personalizing a digital application for your customers, DXCs can involve use of various technologies and platforms to design, assemble, and optimize digital experiences that are personalized, engaging, and contextually relevant to users, thus making DXC a highly lucrative category for businesses that rely heavily on digital interaction with their audiences.
The emergence of DXC platforms is directly proportional to the ever-growing digital demands of consumers where users expect seamless, consistent, and personalized experiences across all digital touchpoints.
With DXC platforms, organizations are able to create digital experiences that are highly tailored to the needs and preferences of individual users, using data-driven insights and analytics to optimize content and interactions. By leveraging DXC, organizations can create a more compelling and engaging digital experience for their customers, leading to increased customer satisfaction, loyalty, and thus generating business growth.
Gartner defines the value of Digital Experience Composition to be:
Fast, safe and efficient innovation and adaptive change are needed to keep up with the needs and ambitions of increasingly demanding business users. DXC combines the ability to safely innovate in total experience for business and development users, while relying on and retaining the integrity of the API-packaged underlying application base.
For organizations to stay truly relevant and match their consumer's expectations, it is critical for them to adopt an approach that not only allows visibility but also creates meaningful and relatable conversations with consumers across all touchpoint and micro-moments. While. Composable set-up provides a perfect environment for organizations to innovate, a DXC takes it to the next level as a DXC unifies the data and assets from CMS, CRM, PIM, DAM, ERP and other backend systems, pairs it with behavioral and contextual data from digital destinations and feeds this data to a front-end framework of choice, thus ensuring a faster time to market in a low-code or no-code environment.
For instance, Cartier - a global luxury jewelry brand that needs no introduction, launched 21 digital apps in a span of mere 24 months using Occtoo's Experience Data Platform also a DXC, to ensure they do not miss any opportunities to vow their clients.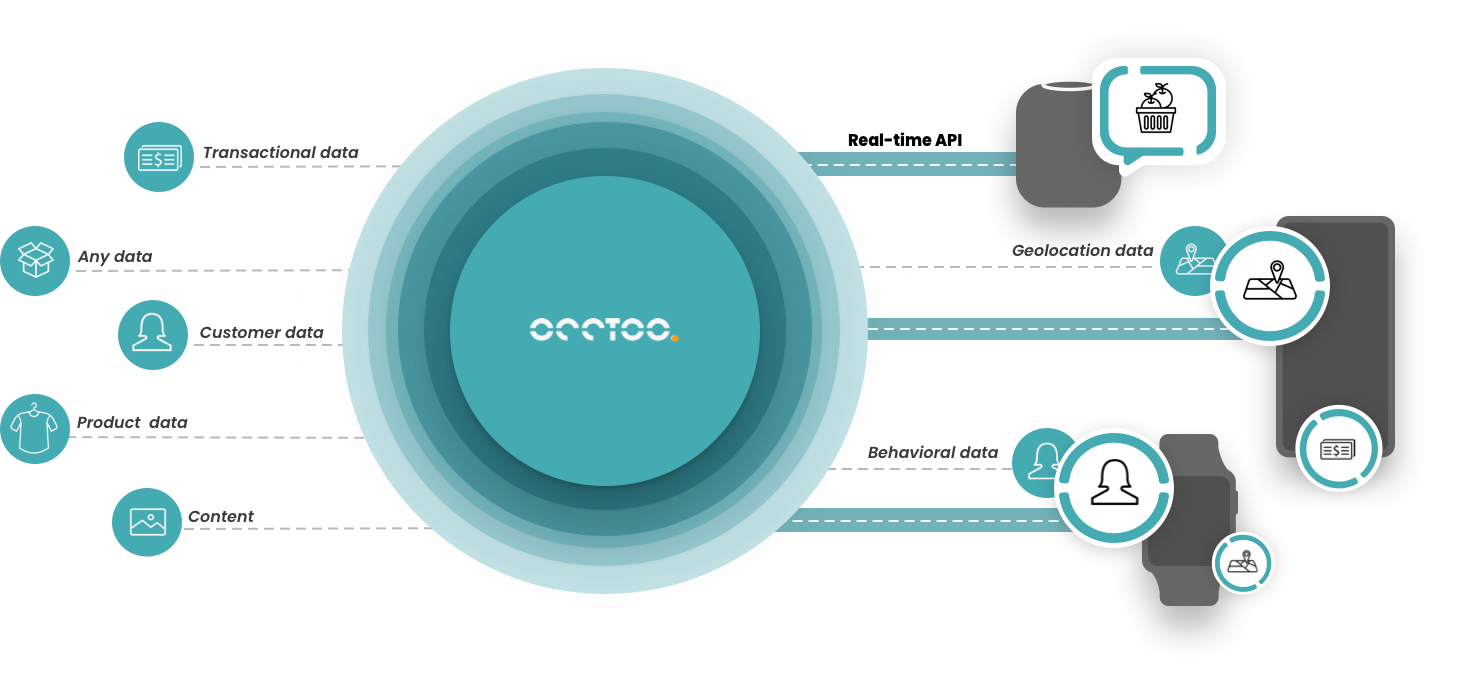 Occtoo won the 'Best DXC Award 2022' by CMS Critic
Why is DXC a game changer and what are its benefits?
A DXC is a leap forward into composability where different technologies/platforms/tools can come together, each a packaged solution in its own, to power consumer-facing front-end experiences. Like a jigsaw puzzle, different composable systems/platforms can work together to orchestrate the larger picture i.e., a digital experience.

Gartner® predicted that by 2023, "organizations that adopt an intelligent, composable approach will outpace their competition by 80 percent when it comes to the speed of new feature implementation".
A compelling argument that would be hard for most opportunistic companies and digital teams not to be allured by. Gartner also predicts that 60% of organizations seek composability in new application investments by 2023.

Overall, the goal of DXC is to empower organizations to create and deliver digital experiences that are relevant, engaging, and personalized, to improve customer satisfaction, loyalty, and business growth.
Here are some of the main benefits of DXC that can totally change your digital game:
1. Innovation:
First things first, we live in a world of cut-throat competition where innovation is prized highly and is as good as finding gold. DXC platforms enable organizations to experiment with new digital experiences and features, helping them to stay ahead of the curve in terms of digital innovation. Imagine a world where you could create a new digital experience for every important moment in your marketing calendar be it something as big as Black Friday sales to something like Environment day, without having to think about the technology aspect of 'how will this work' or imagine leveraging all of the data you collected over the years from a particular consumer and then hyper-personalizing emailers to experiences for them, wouldn't that totally change the name of your digital game?!
That's the power of a DXC, here's how leading hunting brand Outfit International launched 2 new e-commerce sites for its brands, Härkila and Seeland with the help of DXC platforms.
2. Personalization:
Consumers' demands and expectations are reaching the skies these days, as most consumers expect personalized and relevant experiences when it comes to brand interactions. With DXC, organizations can create highly personalized digital experiences for individual users by leveraging data-driven insights and analytics. This personalization can be based on user behavior, preferences, and other factors, leading to increased engagement, loyalty, and, business growth.
3. Agility:
In a world that is rapidly evolving and overly sensitive to latest trends, events, and global incidents like the COVID-19 pandemic, it is vital for brands to remain agile and adaptive. DXC enables organizations to quickly adapt to changing user needs and preferences. By leveraging data and analytics in real-time, organizations can make informed decisions about content, design, and user interactions, leading to a more agile and responsive digital experience.
Read: Jacob Rastad, CTO, Nordic Nest 'We chose Headless because speed and agility are our #1 priority'
4. Consistency: Consistency in brand communication enhances the user experience and helps to build trust and credibility with users. DXC ensures that digital experiences are consistent across different touchpoints, such as websites, mobile apps, and social media channels.
5. Efficiency: DXC platforms can help organizations streamline their digital experience management processes, reducing time and developer resources required to manage multiple touchpoints. This increased efficiency can lead to cost saving, faster time to market and improved ROI.


To conclude, Digital Experience Composition (DXC) is a crucial step towards digital transformation and can be the make it or break it factor when it comes to impressing the digitally savvy generation of consumers today. While Digital Experience Composition packs the punch and is a highway to success in an unstable world, the first step to achieve true benefits is to ensure that your data in not scattered or siloed in different systems and that it is available in real-time every time an experience demands it. If you are drowning in endless streams of data and sifting through multiple data silos to bring together a unified data experience, whilst discarding behavioural context, stop! It's time to add an Experience Data Platform to your stack. Occtoo's Experience Data Platform is a Digital Experience Composition tool built to support businesses in creating new relevant digital customer experiences with speed and scale. We help digital teams move into a new state, where they spend less time integrating and moving data, and more time being creative and innovating with data - shipping more digital initiatives to the market.

If you would like to try your hand at Occtoo's Experience Data Platform and access our no-code studio and test it yourself, with no coding skills needed, click here:
You may also like: