Have you been curious about what it's like to work for a global remote-first company? Are you wondering how we collaborate with colleagues and how teams are managed across different countries? Our people are the most important factor in our success story, so we want to provide curious job seekers with as much information as possible about the culture of Occtoo, and the Managers behind the teams.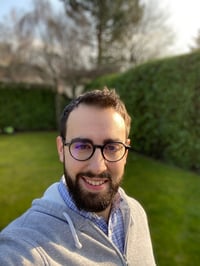 This month I caught up with one of the friendliest guys in the company, Sales Development Manager, Javier Guerrero. I found out why he chose to join this pioneering software company and what he's looking for from his next team member.
Javier is originally from Spain and now lives in Belgium. He would describe himself as a family guy, who enjoys playing table tennis, watching Scorsese movies and Champion League football, and relaxing with a good book.
He chose Occtoo because our remote-first approach was something he really valued, and he finds this makes an enormous difference to keeping a healthy work-life balance. Serving a team of curious and driven SDRs was also of big importance to him.
How would you describe yourself as a team leader?
I try to put as much heart and dedication as I can to help my team grow in the role and become successful.
How long did it take you to be up and running?
It did not take me any longer than I expected. Having worked in other SaaS and tech environments before helped me quite a bit. Also, If I had questions, all my colleagues were always ready to jump in and clarify anything.
What are your goals for the Sales Development team in 2022?
I want to build a strong sales coaching culture at Occtoo and attract the best SDR (sales development representative) talent out there. We have plans to expand to a team of 6 people and we even have an open vacancy right now.

Our goal as a team is to consolidate growth across the Nordics by generating a consistent quality pipeline. Plus gain some solid traction in international markets.
What traits are you looking for in your next team member?
One of the biggest traits I look for in people is that they are coachable: people who are curious and humble enough to welcome and use feedback all the time. Somebody who is hungry to learn new ways to become a bit better every day would make a great asset to the team. You can read a full job description here.
How would you measure success in your team?
I don't measure success solely on sales made. Having meaningful conversations with prospects and building relationships is what moves the ball down the field at the end of the day.

So, I normally look at measurable skills (ie generated opportunities per month), and combine this with skills that are not always measurable (role plays, call and email reviews, time management, etc)
What would you say to anyone thinking of joining your team?
If you want to become a top-notch SDR, become knowledgable within the progressive CX tech field and have a lot of fun in the process, Occtoo is the right place to be!
What does a typical working week look like?
We kick off the week on Monday mornings with an SDR huddle, where everybody shares their highlights and learnings from the past week and we plan the new week ahead.

After that, SDRs spend most of their day connecting and having conversations with prospects via phone/email/LinkedIn. The aim is to learn about their goals and challenges.

We have quick informal chats throughout the week to help each other, clarify things or share feedback. If we identify any need for training, we organize coaching sessions on the topic.

There is a weekly sync with the SDR Manager and the Account Executive to align on strategy and sales opportunities.
What interesting aspects of the job would you like to tell potential employees about?
It is up to each SDR to decide how they want to get to their target. They own their process and workflow, so no micromanagement. You will not be bothered with unrealistic goals and nonsense activity KPIs that make you feel like a robot.
Also, you will enjoy a constant flow of tips, feedback, and best practices every week. You get to collaborate a lot with other departments in joint initiatives, especially with colleagues from marketing, sales, customer success and the founders too.
Are you interested in joining Javier's team?
Javier is currently seeking his next SDR team member. See our open job roles for full details of this exciting opportunity.