Digital innovation in the luxury industry is evolving at a rapid pace, and what luxury brands do next is a hot topic. So, we thought there was no better time than now to speak with our own digital luxury industry experts and ask them the questions we all want to know about the future of digital for the luxury industry.
In this piece, we speak with Ken Kralick. Ken is the VP of eBusiness at Moët Hennessy, the Wines & Spirits division of LVMH, and was previously the Global Director of eCommerce for PUMA. He boasts more than 20 years experience in web design and eCommerce, both on the agency and brand side. We sat down with Ken to get the scoop on the latest digital trends and find out which luxury brands he thinks are doing particularly well in this arena.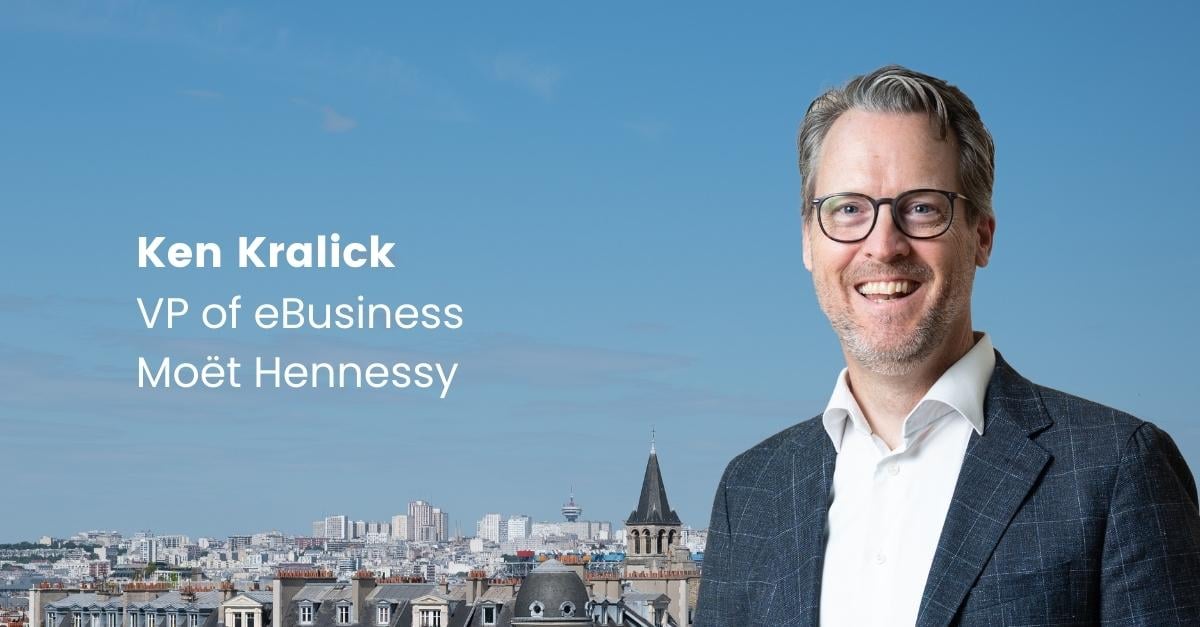 "I believe that digital transformation starts with the requirements of the consumer. The full digital journey can be mapped according to consumers' holistic shopping needs and then the brand must take this journey to heart. Once the journey is defined, then the technology and process solution may be applied."
What do you think consumers of luxury brands expect from the digital experience provided?
Luxury is all about beauty, craftsmanship, and exclusivity. Luxury consumers still expect to shop in an exclusive way, but they are doing more of this online.
These days, luxury customers have a higher expectation of availability and transparency, they demand more information upfront and they want access to the products through more sales channels. They are looking more at price-comparability, quality, and reviews. We must not forget that even though this market can be very wealthy, they want to remain wealthy, so finding the right price and location is something that customers expect, and the luxury industry cannot turn a blind eye to that.
What has happened over the last few decades is that more younger people have become wealthy and now have financial means to buy these products, especially many people coming from the tech industry and China/Asia. They are driving a lot of this new consumption over digital. The up-and-coming generations will not stand in line in a physical retail store for that product, they'll just look for another brand. Brands need to at some point, get over themselves and change their model, where they still have the exclusivity, but they have to be available.
What digital trends do you think are especially important for luxury brands to consider applying to their strategy?
Brands must focus on how to create a strong digital experience that embodies their brand, where consumers are unable to feel, touch, and taste that product without being in the store. Think about what that consumer wants and how you build content to support that.
Brands must also improve the efficiency with the way that they work and disseminate information across all the channels where that consumer is. To do that, they need to be really smart about where they spend, and how they produce and distribute that content. This idea of creating content specifically for digital experiences is still relatively new for many of these luxury brands.

The internet can bridge the gap between stores. What's missing currently for some is a real embodiment of the brand.
Are there any luxury brands that you think are doing really well in digital? Who and what are they doing?
Burberry, Louis Vuitton, and Tiffany stand out for me. These are brands that are truly stitching together digital and physical. They've created a concierge service. They've created a CRM and loyalty where their sales staff know their top customers and they speak with them. They have extra products that magically appear early or specifically for a consumer like this. Their digital channels are personalised and localised at a consumer level.
These brands are ahead of the game and their products tend to have a longer life-cycle, which means they're able to squeeze more out of it (vs fast fashion).
If you were to give advice to someone working with digital experience at a luxury brand, what would it be?
I have two great pieces of advice that were shared with me and I would also share with others.
Firstly, as you enter luxury as a digital forward-thinking person, remember that not everyone will know what you are talking about. So, you need to spend time to get everyone onboard with your ideas.

The second part is that you need to understand the heritage. Your task is to bring that heritage into digital, the digital experience cannot differ from the heritage because the heritage is the competitive edge and it cannot be diluted.
Connect with Ken on LinkedIn
In summary
Digital experience for luxury brands no longer needs to mean a lack of service, personalisation, and exclusivity. Nor should digital experience be restricted to eCommerce. The overarching message from our experts is that for luxury brands to succeed in digital, they must find a way to create a unique experience, laced with the heritage and beauty that their brand is renowned for. The correct partnership between physical and digital will strengthen customer relationships for a lifetime. Once the digital experience has been identified, then it becomes a matter of how you integrate the data for a true omnichannel sales journey.
FREE webinar:
Learn how luxury brands can build digital experiences 4x faster