This week we spoke with Johan Sommar, Chief Strategist at Avensia. Johan is an expert in omnichannel – and boasts more than 15 years of experience from both the client and agency side.
We're interviewing some of the most influential people in retail and digital commerce to bring you some of the hottest insights and learn about the future of customer experience and what's next for leading retail brands. You can view the full collection of our Top Voice Retail interview series here.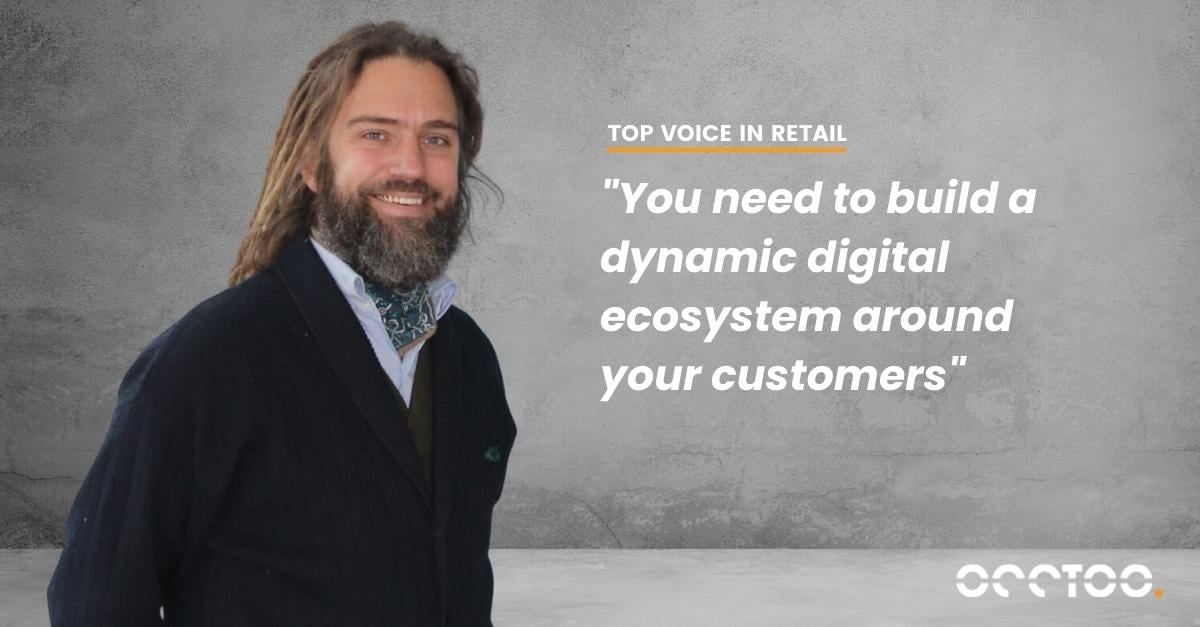 Hi Johan, tell us a bit about you!
I'm a business developer with a focus on customer behaviour, and I've been working within the digital commerce space more or less my entire career. I began on the retail side, and currently I am Chief Strategist at Avensia where I've been for the last six years.
Can you tell us about Avensia
At Avensia we're 400 experts focused on modern commerce. We support our customers with strategies and technology for information management, e-commerce and omnichannel as well as customer loyalty. These are the key components we consider to be fundamental to create solid customer experiences today. We are working with companies who want to be the leaders in their field and we have offices in Malmö, Lund, Helsingborg, Gothenburg, Karlstad, Oslo, Stockholm, Chicago, London, and Cebu.
Are you seeing any trends recently regarding what customers expect from the digital experience?
I think it's important to consider how you can build a digital ecosystem around your business consisting of a variety of touchpoints. They can be anything from the very traditional store and e-commerce site, to conceptual web apps, third party apps/marketplaces, influencers, and other things your customers need to be successful with your services and products. You need to use that ecosystem to become a brand that offers an experience and adds value to customers. It's truly a make it or break it approach today. A fundamental asset to connect this ecosystem is to have your data connected across all touchpoints and channels.
Do you think anything is often overlooked when it comes to Omnichannel success?
Those who are good at omnichannel today are those who have passion and grit. They never stop experimenting with how they use and combine all ingredients that are available to create the omnichannel experience to offer something unique that resonates with their specific customers. The ingredients are often the same, but it's the execution that separates the winners from the laggards today.
What do you see as the main challenge for retailers to succeed with Omnichannel?
To succeed with omnichannel the one thing that is crucial is speed! You need to execute fast and you need to work on many parallel tracks at the same time. You simply don't have time to only try a couple of things per year and see how it goes. You need to ship, collect customer feedback, and either kill the initiative or scale it depending on how it was received by customers. Those that don't have capacity to do this, both from a cultural and capability perspective will quickly fall behind.
Avensia recently became an Occtoo partner, what was the reasoning behind that decision?
We need to be in the forefront of new technology and trends to ensure we support our innovative customers who aim to be the leaders in their fields. In order to support them in the best way possible we always ask ourselves; "can we do it easier, can we do it faster, can we do it cheaper so we can JUST DO IT!"
We really want to help them get to that speedy execution that I was talking about earlier. We want to help them quickly launch and test more digital concepts before they scale the ones that work. We believe Occtoo's Experience Data Platform holds some of the answers to that, since the instant access to unified data and content enables companies to quickly ship an initiative to market and test the concept in a cost effective manner.
The Occtoo platform also solves the challenge of connecting and re-using data and content across channels which is a massive benefit to customers aiming to power their digital ecosystems from one single place. It's truly a game changer and I am personally very excited about the innovative things I envision we can build for customers using Occtoo.
Which retailers do you think are doing really well in their Omnichannel efforts?
Swedish retailers Kjell & Co and Kicks are really good at testing new things without being so afraid of things not working out as they intended. Then they just change it and try something else. Their passion and grit really shine through!
Further reading
Here's some examples of omnichannel initiatives our customers have built using Occtoo's Experience Data Platform