This week we spoke with Kasper Holst, CEO of IMPACT (Occtoo partner). Kasper is an expert in omnichannel commerce – and boasts more than 20 years experience with digital strategy, digital transformation, organisational design, business development, omnichannel commerce, Big data, loyalty/dialogue, self-service, product data and digital marketing.
We're interviewing some of the most influential people in retail and digital commerce to bring you some of the hottest insights and learn about the future of customer experience and what's next for leading retail brands.
You can view the full collection of our Top Voice Retail interview series here.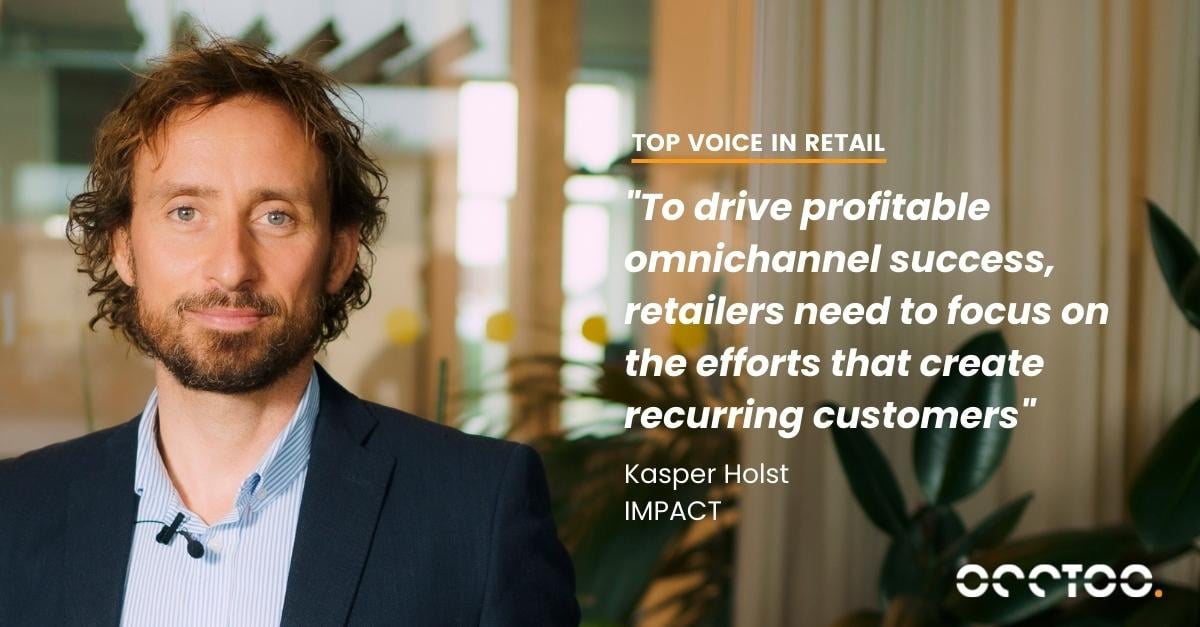 Hey Kasper, can you tell us a bit about IMPACT™?
IMPACT is a full service digital commerce consultancy that found its roots almost 25 years ago, firstly in eCommerce and then branching to full Omnichannel for retail brands and B2B. We deliver everything from strategy, CX, customer journey insights, composable commerce, data, and digital marketing activities. Our team includes more than 400 people across Europe, and we work with the largest retail brands and B2B companies in the Nordics.
We are technology agnostic, so we try to advise our customers and help them organise their digital programmes and transformations: whether that's to change the organisation, to change processes, or how to activate new channels. Our purpose is to change commerce for a better world, ignite better experiences that create joy, and influence our customers to create more sustainable commerce.
Each year you run an extensive in-depth report called the Omnichannel Index. Can you tell us about the purpose of the report?
The purpose was to be able to benchmark retail businesses and identify the gaps between customer expectations and actual services amongst the best performing and least performing businesses. The second reason was to be able to notch companies in Scandinavia to become stronger in global competition and elevate their experiences. We're measuring the ability to meet customer expectations in this index.
What are some main highlights you have found in the Index report?
This is the 3rd annual Index report we have produced. In 2022 we're seeing improvements driven post-covid. There's been a pressure to implement new ways of taking orders and delivering products: this was one finding that was highlighted through the report and we can see from this where there was a catch-up process for some retailers to do better.
Another finding we made from the Index report this year is that only a few retailers actually meet the speed expectation that we have set for a good fast mobile website. This highlights where some could be missing out on basic quality elements.
Then there's findings relating to connection between online and offline. Only 20% of the benchmarked retailers offer their customers the option to reserve online and collect in-store on the same day, and only 10% of retailers offer same day delivery. 1 out of 5 customers actually go to a store because they want the product on the same day, so there's a lot of customer needs that are not fulfilled with the current way of operating Omnichannel.
We also learnt that only 2 out of 3 retailers are actively gathering and activating consumer data on loyalty programmes. Only a few retailers have on-boarded an app to support the buyer journey.
Even of those retailers who have a loyalty programme, only 50% are using the data available in stores. This affects the ability to do smart marketing after the sale and it blocks the opportunity to deliver more personalized emails and capture feedback. I believe feedback is one of the most important things in retail. If you have no relationship with your customers then how do you improve the lifetime value?
The click price to acquire new customers on Google has risen by around 45% in the last 18 months. Retailers can simply not afford to constantly acquire new customers, so they need to improve the lifetime value by providing better services at later stages in the buying journey.
What have you found to be the most important areas to focus on for retailers to enhance their Omnichannel experience?
We have identified that the biggest opportunities for retailers to improve the experience lies in the Evaluation and Loyalty phases of the buying journey. This means retailers need to become better at utilizing their data to improve experience and conversion on their own digital destinations and how they service customers after a purchase.
As customer acquisition cost has risen so much, investing more in the evaluation and loyalty phases will help with overall profitability. When you are paying so much to acquire a customer, you need to be able to turn them into long-term, recurring and profitable customers right?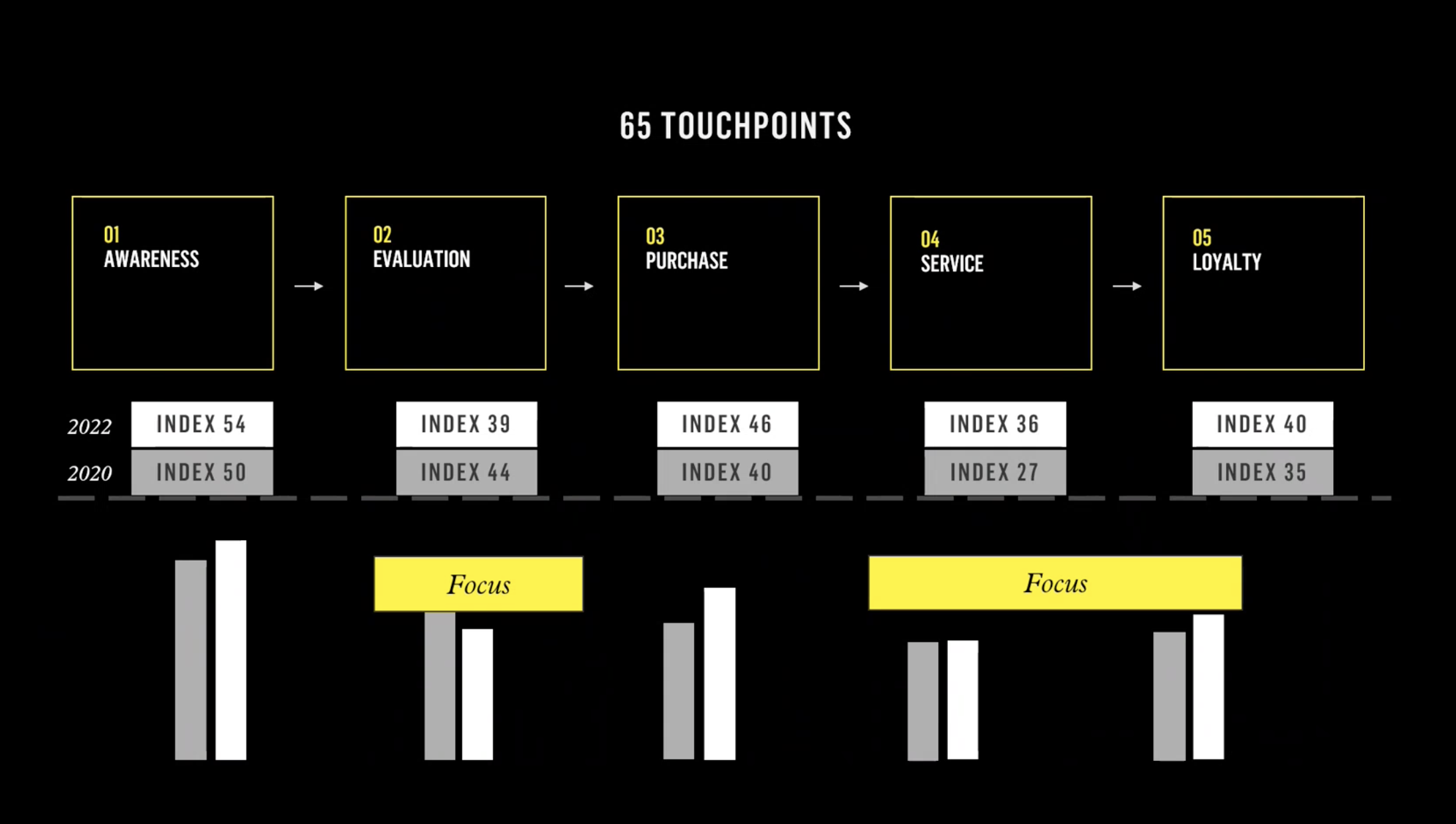 In the IMPACT Omnichannel report there is a clear gap in the Evaluation, Service and Loyalty phase in the omnichannel journey.
What would you say are the biggest challenges retailers face to be successful with Omnichannel?
The Omnichannel model is ultimately all about collaboration between great processes, incentives and capabilities to exchange data.
Each touchpoint in the buyer journey is dependant on another and the gaps we're seeing are all related to data collection and exchange and flow between channels. This is why we think Occtoo's Experience Data Platform is so interesting because it can enable a seamless exchange of data and content between channels and tie the omnichannel experience together. It is an especially good investment if you quickly want to build new digital services to improve the Evaluation and Service/Loyalty phase of the Omnichannel journey.
Learn more here on how to overcome the data silo omnichannel challenge with Occtoo's Experience Data Platform!

What are the steps you think retailers should take to overcome these challenges?
They need to invest in tech abilities to ensure that the master data (inventory, product, customer) behind their commerce is ready and in good quality. You then need to ensure you can expose the data and make it available for different channels, to build loyalty and inspiration. You need to connect your different data entities.
Organize your data well to strengthen capabilities and understand where to invest in the customer experience to influence customers.
Getting all of your data in place in relation to products and combine that with store inventory and pricing will help a lot of elements in the awareness and evaluation phase.

What advice would you offer to retailers that want to be successful with Omnichannel, and lead the way in the future?
Hire the right CMO and/or CDO that understand how to lead, to set direction for the management and the board with a strong profile that drives vision, who can explain the business rational for decisions, and understands the stakeholders in the business. Allow that person to interact directly with the CEO and the board.
Then I believe it's important to have a strong Tech leader. Someone who understands the Omnichannel world and can drive the transformation on the tech side and execute on transformational IT projects.
You need to set out the right vision and strategy. Identify the right revenue and profit potential 5 years ahead to secure the right investment and backing over the long term.
One final thing I'd like to add is, less than 5% of retailers offer planet friendly delivery options, and less than 20% offer consumers the option to filter on sustainability. There is a huge opportunity for some retailers to fight climate change and your data is the key to do this. It's really not so difficult to do.
In summary
Leading retail businesses are shaped by Omnichannel experience and the creation of high-quality buying experiences, across all touch-points. Building a strong digital presence and leveraging your data to make customer experience more personal is a great way to grow customer value and lengthen customer lifetime.
Your data holds infinite business value, so you must ensure it's of good quality and exposed to your channels, where your teams can make realtime use of it and build upon customer relationships both in-store and online.
Further reading
Examples of retailers executing in the Evaluation and Service/Loyalty phase: