Digital innovation in the luxury industry is evolving at a rapid pace and what luxury brands do next is a hot topic. So, we thought there was no better time than now to speak with seasoned digital luxury industry experts and ask them the questions we all want to know about the future of digital for the luxury industry. You can view the full collection of Luxury Top Voice interviews here.
In this article, we speak with Brand Innovation Strategist, Consultant, Start-up Mentor, Lecturer, and passionate advocate for women in business, Marie Pierre Schickel, about the biggest changes she sees for luxury brands to undertake as they move to strengthen their digital customer experience.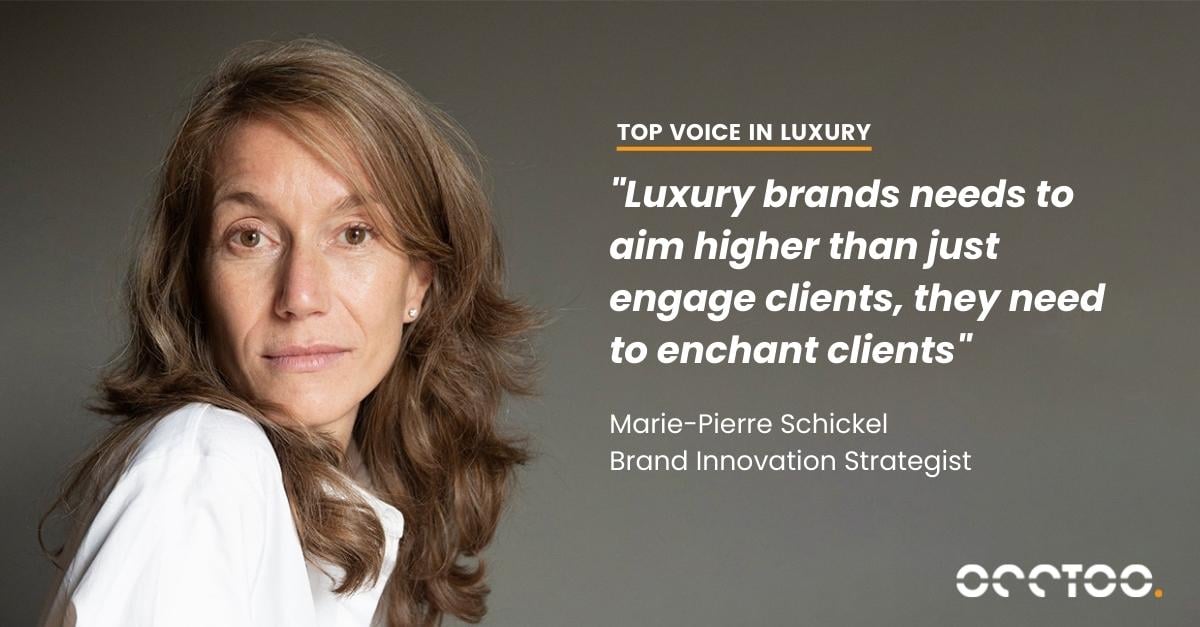 Can you tell us a bit about your background and what your role within luxury is today?
I began as a Strategy Consultant for Bain & Company before I took a deep dive into the world of Luxury. I have been part in repositioning brands from a premium position into premium luxury and worked with dozens of luxury brands. Today I have my own consultancy firm and am also educating the next generation of luxury professionals as I teach luxury brand management in several universities in Milan and abroad.
What do you think clients of luxury brands expect from the digital experience, and how has it changed over the last five years?
The expectation of luxury brands is extremely high, but sometimes the best practices are not found in luxury brands, they are found in brands like Amazon. What informs the expectation for customers is not necessarily informed by luxury brands, but by experiences customers have elsewhere. The customer may already have high expectations of the luxury brand in terms of their quality products and retail customer service, but now their expectations for the entire experience are higher including in delivery and how that retail experience transcends into the digital experience.
Luxury customers want an easy digital experience, with enchantment and surprises. We need to think about what engagement means for a luxury brand. Digital is now a way of life and customers expect it to be fast and up-to-date.
What strategies do you think are especially important for luxury brands to consider applying to their strategy?
I think that technology should be looked at as an enabler and not the driver. Look at the behaviours, desires, and motivations of your clients, then look for the digital tool that can fulfill that and solve their problems.
Trends change so fast, so I would focus on anything that truly improves the customer experience. Luxury brands have been fast to adapt to social media and storytelling, but they have probably lagged in digital service, perhaps for the fear of not being able to match the digital service with their in-store experience.
There is an old adage that tells us a brand should be present where its customers are- you can't go against that unless you have the extreme power of a high-end well-established brand like Chanel, that refuses to sell its higher end products online. The truth is that smaller luxury brands can't afford to do that and must make sure they use digital opportunities to strengthen their offering.
What challenges do you see luxury brands face in order to excel their digital experience?
To create a truly omnichannel and unified experience. Luxury brands need to look at the entire customer journey and strengthen the quality of every single touchpoint. You expect to feel special as a luxury customer and have an extraordinary experience at each step of their relationship. It should be a continuum.
There's a lack of connecting the entire customer journey and using customer data for marketing outreach and strengthening the relationship. For example, I can buy a product from a 'fast-fashion' player and I'll get multiple notifications on email and text messages about when it's been packaged, shipped, expected delivery, etc. But by comparison, my experience of having my watch serviced/cleaned with a luxury brand I have had to call them three times for an update.
Recommended reading: Luxury brands turns to experience data to overcome the omnichannel data silo challenge
What luxury brands do you think are executing a strong digital strategy?
For me it's the Maisons. They are executing digital strategy, and not just for storytelling. It's a balanced strategy: they are engaging the customer and presenting product information very well. In terms of omnichannel capabilities, they are very strong, you can chat with customer care and you can find a store that has the product you want.
Recommended reading: Learn how Cartier enhanced their in-store experience with a mobile app for sales associates
Another one I would highlight is Guerlain. They are not only leveraging technology to provide a better experience but they are doing it in a way that's true to their brand and reinforces their identity. They use crypto and NFTs that are linked with their sustainable practices.
If you were to give your best advice to someone working within digital experience with a luxury brand, what would that be?
I would have to give three pieces of advice.
Firstly, have a truly customer-first approach. Unifying your data is fundamental because it forms the base of everything you do. If you don't know your customer, then everything you do is pointless. You cannot have a true view of your customer without unifying the data.
Secondly, be TRULY omnichannel. The customer wants to be served on their own terms and in their own way, so you must give them the choices.
My final piece of advice is about the mindset of innovation. In the luxury industry there is still an obsession with perfection and time to market is very slow. Time to market was ok previously, but now the concept of fast prototyping and agility is more important. Anything that can allow you to test, learn and be more agile with what you deliver is great. Fail fast and improve faster and then take an MVP approach to what you deliver.
Connect with Marie-Pierre on LinkedIn
Recommended reading: How luxury brands can innovate their digital experience faster using an Experience Data Platform
In summary
Digital experience for luxury brands no longer needs to mean a lack of service, personalization, and exclusivity. Nor should digital experience be restricted to eCommerce. The overarching message from our experts is that for luxury brands to succeed in digital, they must find a way to create a unique experience, laced with the heritage and beauty that their brand is renowned for. Once the digital experience has been identified, then it becomes a matter of how you integrate the data for a true omnichannel journey.
FREE webinar:
Learn how luxury brands can build unique digital experiences 4x faster